Item No.

YS-500050

Item Name

Custom Free Standing Rotating Shoe Store Metal Display Racks

Size

1. Normal size: 450*450*1700mm, 480*480*1800mm (adopted by our company), 500*500*1800mm, 500*500*1800mm.

2. Customized size: the size can be customized according to needs. The diameter is not recommended to exceed 550mm and the height is not recommended to exceed 1900mm.

Material

1. Iron round pipe (inner pipe) : diameter is 35mm, can be selected between 30mm-35mm

2. Iron round pipe (outer pipe) : diameter is 38mm and can be selected between 36mm-40mm

3. Iron square pipe: the side length is 25mm, which can be selected between 20mm-35mm

Surface Treatment

1. Regular color: white or black spray powder.

2. Customized color: it can be customized according to pantone or RAL color card.(the round pipe and shoe support can be two different colors)

Structure

1. Tool-free installation: no screws or other tools are needed for the installation of each layer. Only screws are needed for the fixing of the top brand.

2. Reduce packaging volume: the product disassembly packaging volume is 1/2 smaller than the whole packaging volume, saving domestic and foreign transportation costs.

Samples

1.You can order a rotating shoe display rack sample to test.
2. If your lead time is urgent, please let us know.

Custom Service

We can provide 3D drawing for free and customize according to your requirements, including material, size, structure, color and logo.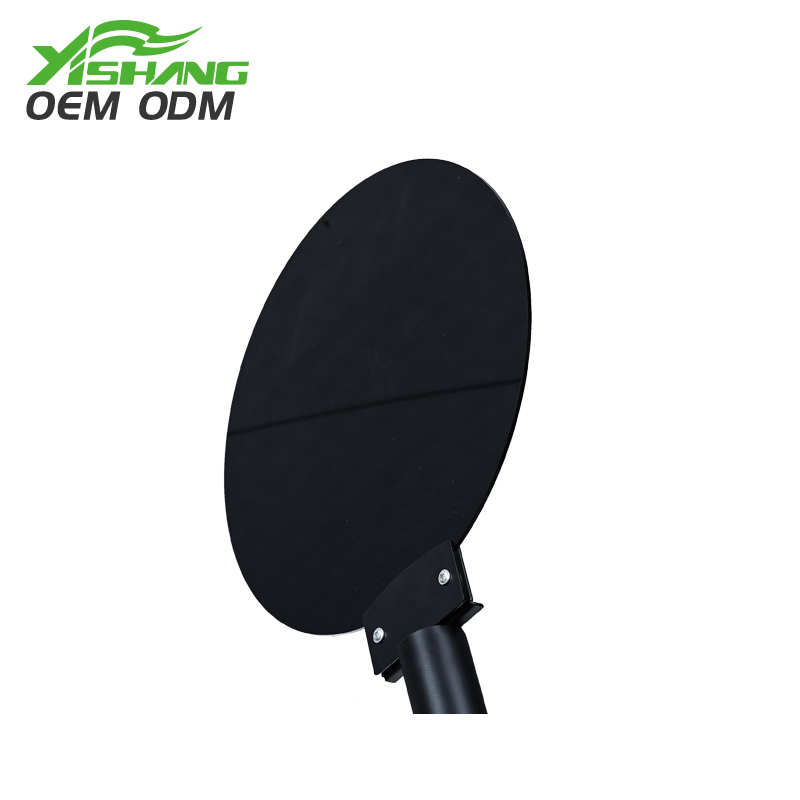 Top Header
1. Type: acrylic plate header, metal plate header or cardboard plate head er can be selected.
1) Acrylic header: silk screen printing, UV printing or mounting are recommended
2) Metal header: it is suggested to use silk screen printing, UV printing or mounting
3) Cardboard header: four-color printing or UV printing is recommended
2. Shape: round, rectangular, square or other specific shapes can be selected as required.
3. Fixing method: easy to fix with screws. After removing the screw, it is free to change different plates.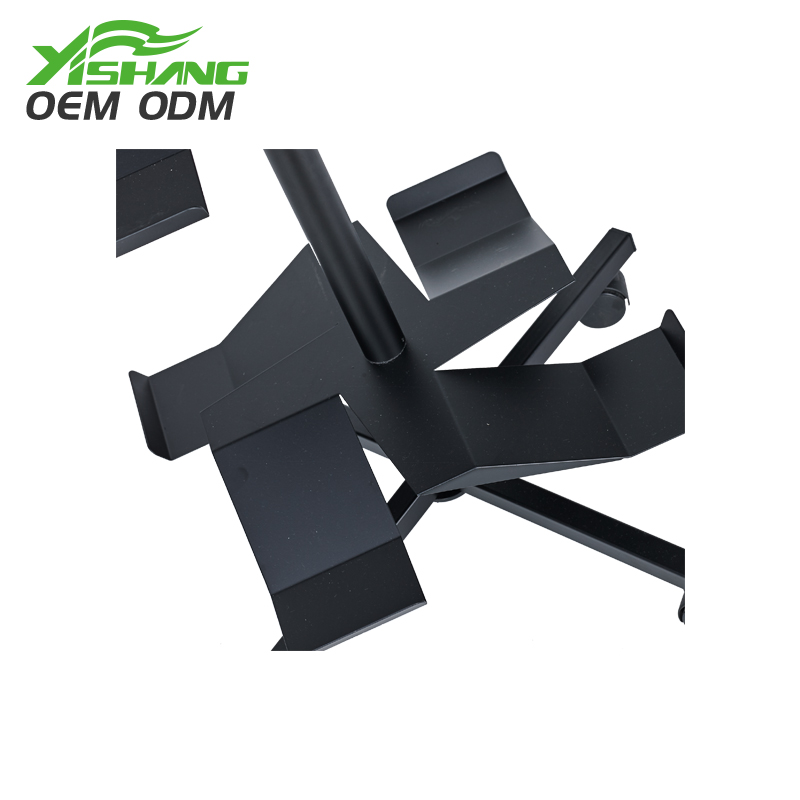 Shoe Tray
1. Number of floors: the original design of the metal shoe display rack has 4 floors, which can be increased or decreased according to actual needs.For the sake of aesthetics, it is recommended to have no more than 6 floors and no less than 3 floors.
2. Size: the original length of each tray is 20mm, and it can be selected between 20mm - 30mm. 20mm for 34-39 Europe size, 25mm for 40-43 Europe size and 30mm for 44-46 Europe size.
3. Anti-skid design: the front end of the tray has a baffle design to prevent the shoes from slipping. Baffle conventional height can choose 20mm, 25mm or 30mm, can also be customized according to the type of shoes.
4. "Windmill" shape design: the windmill shape design with random patterns is distinctive.It can be changed to other shapes according to customers' preference.
5. Rotary design: depending on the gap between the tube and tube rotation, no bearing.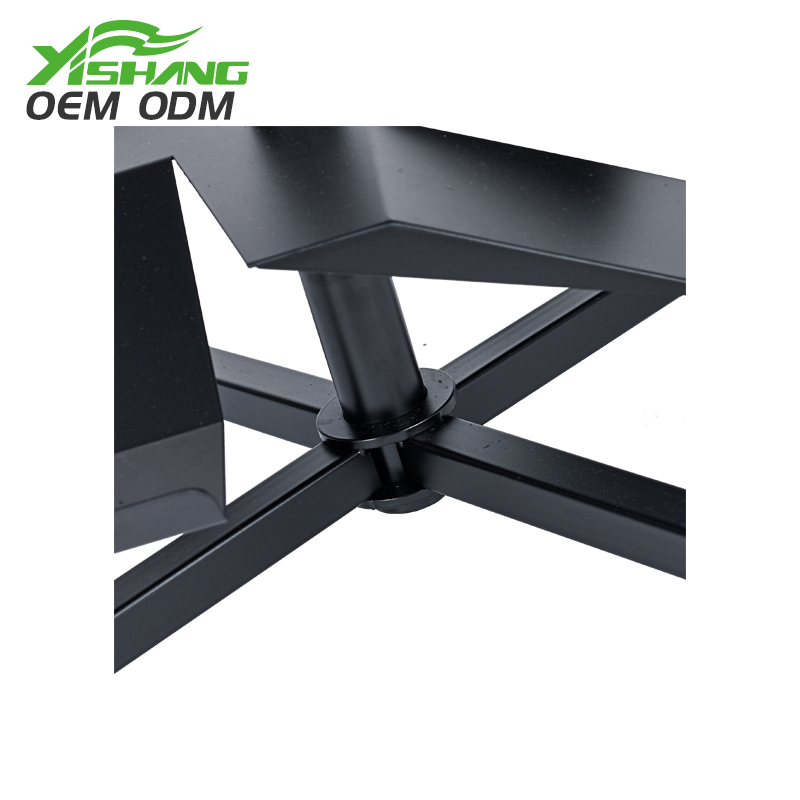 Supporting Feet
1. Number of supporting feet: our company adopts 4 feet to stabilize the whole exhibition frame, or 5 feet.
2. Shape of supporting feet:
1) Iron square pipe: our company adopts 25mm*25mm iron square pipe as the support foot, and can choose 30mm*30mm, 35mm*35mm, 40mm*40mm and other conventional sizes.
2) Iron round pipe: at the same time, the iron round pipe with diameter between 25mm and 40mm can also be used as supporting foot.
3. Pipe sealing: there are two ways to maintain the aesthetics of supporting feet.
1) Rubber plug: the commonly used plastic rubber plug of the corresponding size is used to seal the pipe mouth, which is easy and convenient with low cost.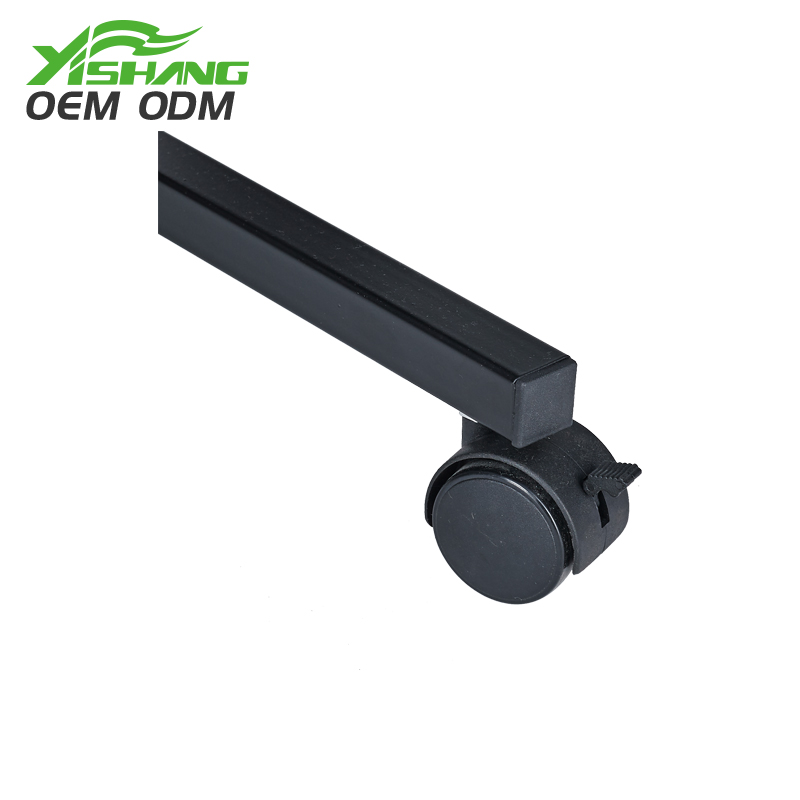 2) Welding metal sheet: weld the iron sheet of the corresponding size to seal the pipe mouth. After welding, it needs to be polished, and the cost is a little higher than that of the rubber plug.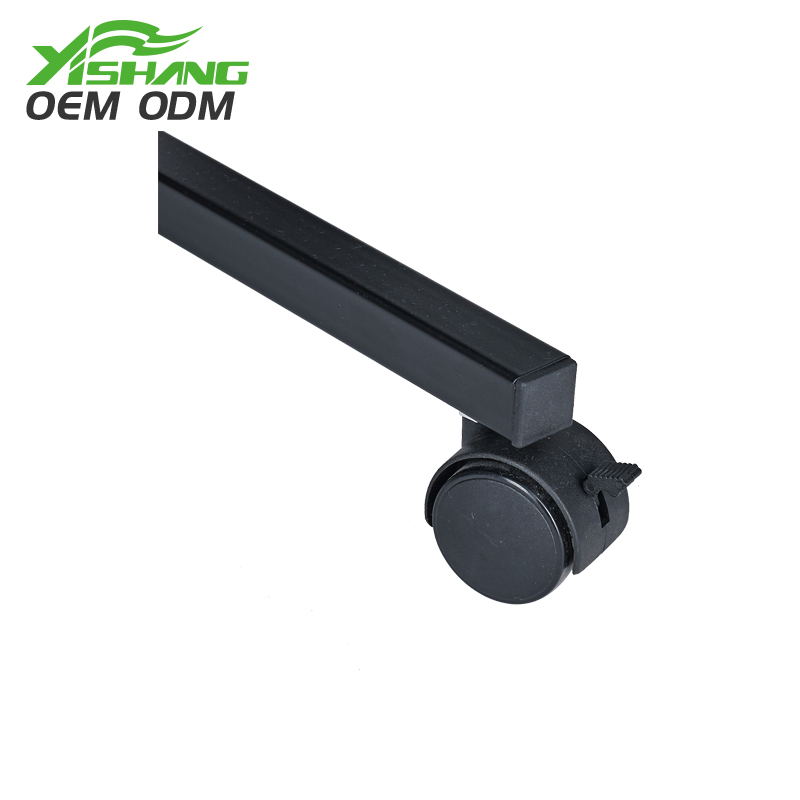 Moving Method
1. Caster:
1) Un-brake caster: it is easy to move, but can only be used on flat ground.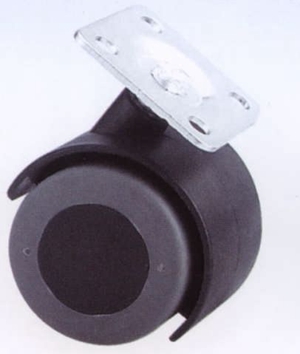 2) Brake caster: it is easy to move and can be used on flat or slightly tilted ground.(adopted by our company)
2. Adjusting foot: it can be used on uneven ground, adjust the height of foot according to the actual situation of the ground, and maintain the balance of display frame.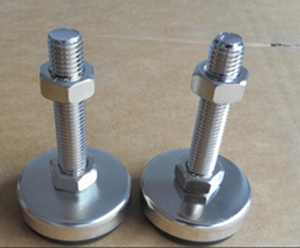 What materials are needed for early stage of custom display stand?
bg
1. Pictures, size and weight of brand products.

2. Target level and application scenarios.
3. Free 3d rough draft (left picture) and design sketch (right picture).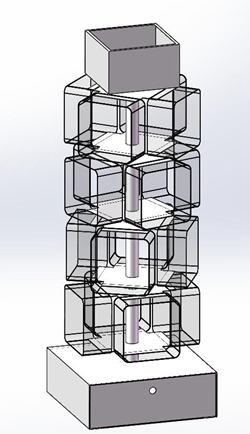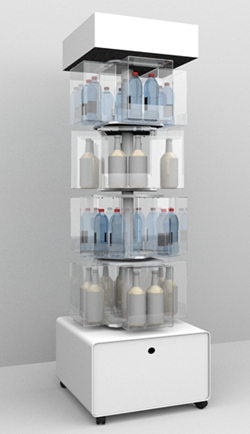 4. Business team provides 24-hour service.
How can we help buyers if they don't know how to install the shoe display rack?
bg
1. Each product is equipped with simple and easy-to-understand installation instructions.
2. Shoot the installation video for customers.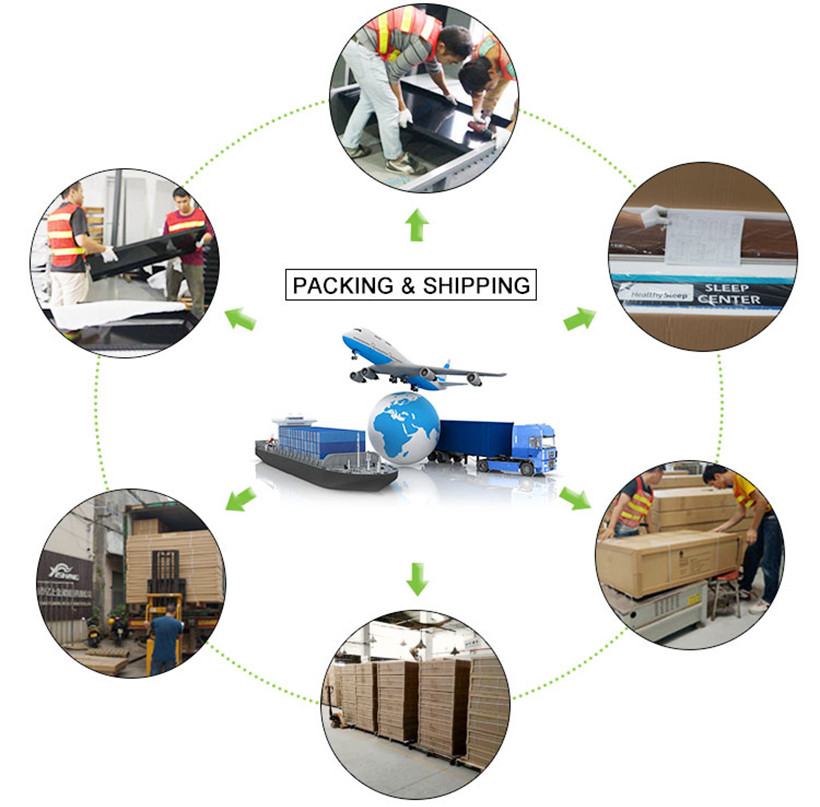 Plastic bags:
We usually use the 0.05mm thick PE or PO bag for the metal shoe display racks.
Foam:
We usually use the 30mm thick white foam for the rotating shoe display rack. 10mm or 20mm can be used, but we don't recommend.
Carton:
1) Type: We usually use corrugated carton for export display racks.
2) Number of carton layers: there are 3, 5 and 7 layers in general.It is recommended to use 5 layers for general export products and 7 layers for large and heavy products.
Remarks:
We will conduct a collision test on the packaging to ensure that the products are unbiased inside the packaging and avoid scratching on each other.