Product Number

YS-900163

Product Name

Custom Rotating Metal Cookies and Candy Display Rack for Store

Usage
This rotating display rack can display cookies, candy, bottled cosmetics, bottled drink, etc.

Materials


1. Iron plate: thickness can be 0.8mm - 1.2mm.

2. Round iron pipe: pipe wall thickness can be 0.8mm - 1.2mm, diameter can be 35mm - 38mm.

3. Acrylic: transparent, thickness can be 1.0 - 1.2mm.

Size

1. General size: small - 605*605*1800mm, medium size - 645*645*1845mm, large size - 705*705*1900mm.

2. Customizable size: in order to meet normal vision, the height is recommended not more than 1900mm.




Item Finish

1. Powder coated: conventional is white or black, other colors can be selected from Pantone color card or RAL

color card, but the minimum order quantity is 300 pieces.

2. Painted: the green on the picture is the painted effect. Although the cost is a little more expensive than powder

coated, the color selection is more flexible, and the gradual color can also be made.




Disassembly Structure

1. Transportation cost saving by disassembly: for medium size, the package size of the assembly structure is

730*730*1920mm, while the package size of the disassembly structure is only 730*730*1000mm.

2. Assemly package is not firm: this rotating display rack is not regular cube or cuboid. It is difficult to be fixed in

the carton.

3. Easy installation: only the logo on the top needs screws, and other parts only need to be directly nested. It takes

one person 10 - 15 minutes to complete the installation.

Sample

Welcome to purchase sample to inspect if you are interested in this candy display rack.

Services

1. Free 3D design sketch within 24 hours.

2. Yishang offers custom services of all kinds of display racks.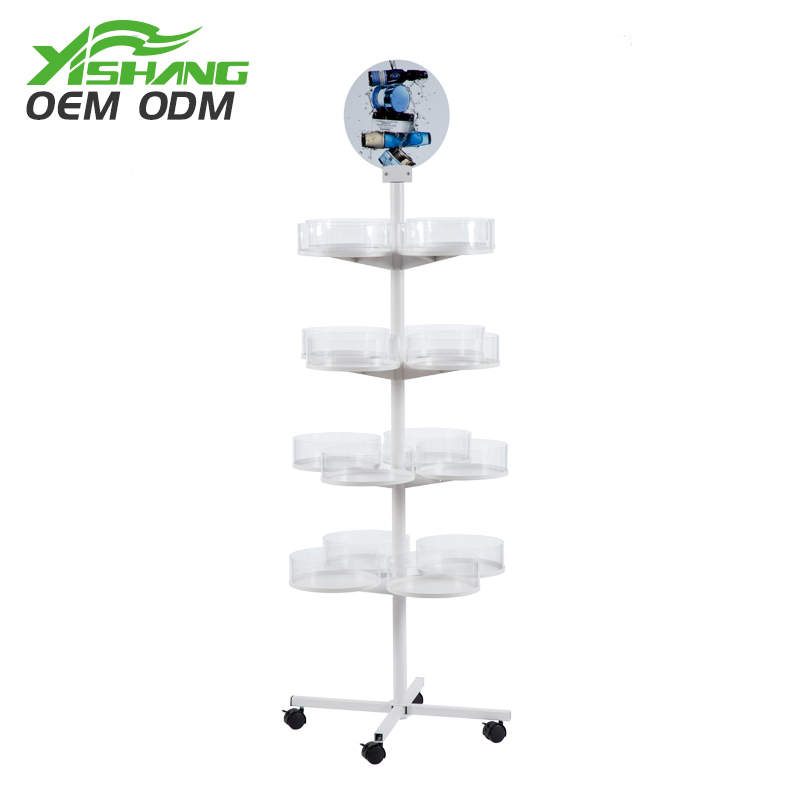 Logo Header
1. Optional types: acrylic header, metal header or PVC header.
1) Acrylic header: the thickness can be 3mm - 5mm, suggest screen printing, UV printing or mounted picture.
2) Metal header: the thickness can be 0.8 - 1.2mm. It is recommended to screen printing, UV printing or mounted picture.
3) PVC header: four-color printing or UV printing is recommended.
2. Shape: circle, rectangle, square or other special shape can be selected as required.
3. Fixed methods:
1) Screw fixation: after removing the screw, the header can be replaced freely, suitable for acrylic, metal and PVC header.
2) Welding fixation: cannot replace the header, only apply to metal header.
Rotating structure
1. The display rack has 4 layers, each layer can rotate freely.
2. This display rack does not contain rolling bearings, and its rotation relies on a round tube with a diameter of 35mm as axis, and the round tube with a diameter of 38mm is fitted on the outside of the axis.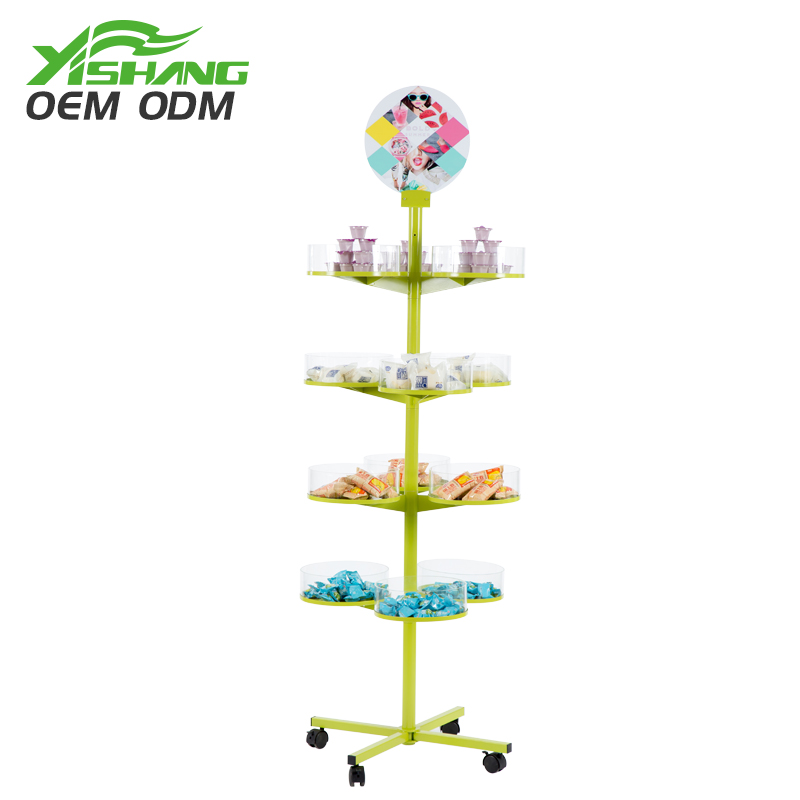 Acrylic "Fence"
1. Acrylic thickness: considering the cost and aesthetics, it is recommended that 2.0mm - 4.0mm, we use 3mm.
2. Acrylic color: transparent and colorless (adopted by us), transparent and colored, translucent color, opaque and colored.
3. Advantages of transparent acrylic:
Highly transparent acrylic sheets are adopted, with a light transmittance comparable to that of glass, which is over 92%. But it's only half as dense as glass. It is not as brittle as glass, and when it is broken, it does not form sharp fragments like glass.
4. "Fence" height: according to the display of the type of goods to choose the appropriate height.
1) Cosmetics: 50mm - 80mm is recommended.
2) Beverage: 80mm - 120mm is recommended.
3) Candy: 100mm - 150mm is recommended.
The Tray
1. Tray shape:
The original design is circular. Square. rectangle, triangle and other shapes can be used according to preference. Acrylic "fence" must be in the same shape as the tray so that it can be fixed to the tray.
2. Tray height:
Tray height is too small will affect the acrylic "fence" fixed, tray height is too high will affect the appearance of the rotating display rack.Therefore, we suggest that the tray height of 10mm - 15mm is the most appropriate.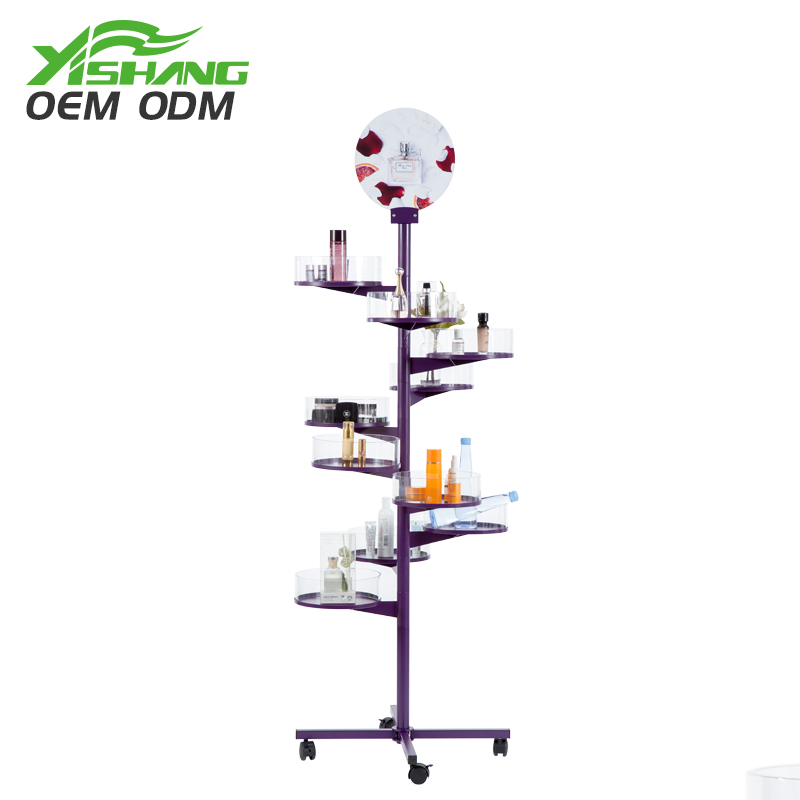 1. Number of supporting feet: we use 4 feet to stabilize the whole metal display rack. 5 feet can be used, too.
2. Shape of supporting feet:
1) Square pipe: we use the square pipe of 25mm * 25mm as the supporting feet, and conventional sizes such as 30mm*30mm, 35mm*35mm, 40mm*40mm can be selected.
2) Round pipe: meanwhile, round pipe with diameter between 25mm and 40mm can also be used as supporting feet.
3. Sealing pipe end: there are two ways to maintain the aesthetics of supporting feet
1) Rubber plug: use the common plastic rubber plug of corresponding size to seal the pipe end, which is easy and convenient with low cost.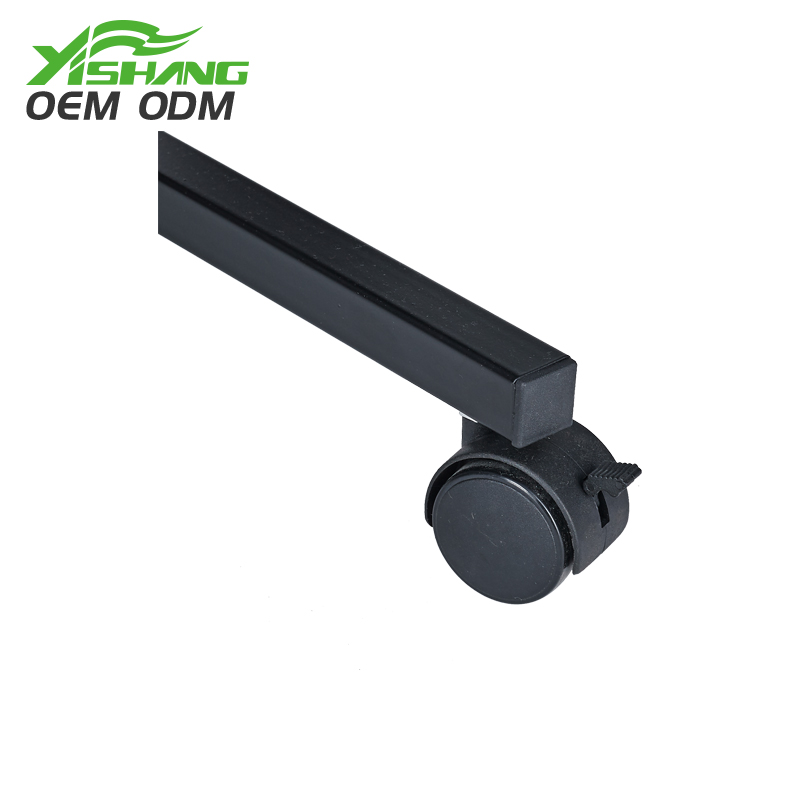 2) Welding metal sheet: welding the corresponding size of the metal sheet to seal the pipe end, this method needs to be polished after welding, the cost is twice as high as the rubber plug.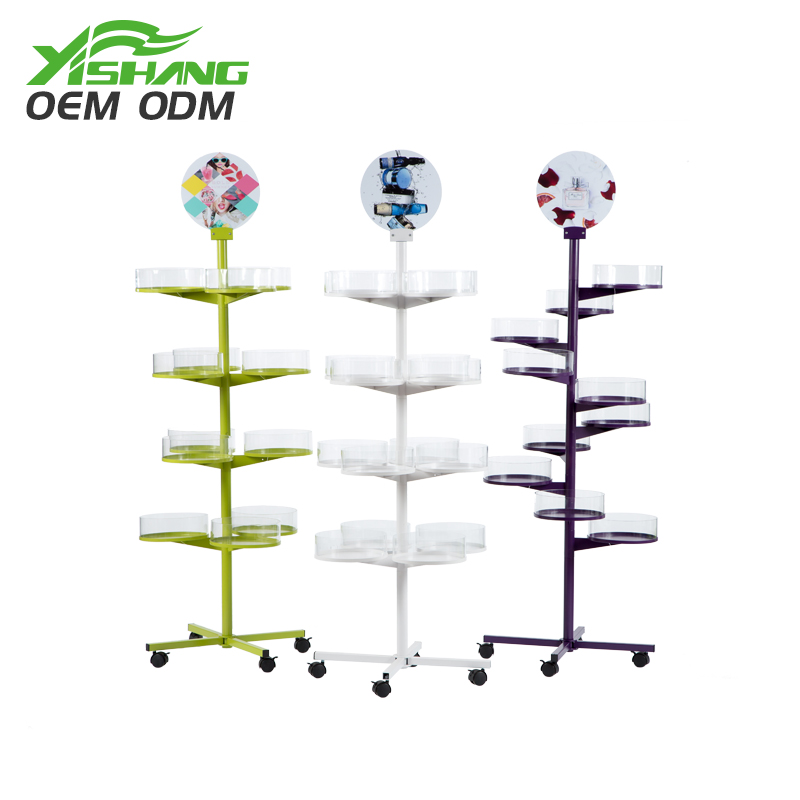 Mobile way
1. Brake casters: even if the metal display rack is full of goods, it is convenient to move. It can be used on the flat or inclined ground, and it is not easy to deviate from the original position.
2. Adjustable feet: when the goods are full, lift and move with strength. But can use in uneven ground, adjust the height of the feet according to the actual situation of the ground, maintain the balance of store display rack.
Plastic bags
1. Type: the display stands are mainly used PO or PE plastic bags (non-toxic).
2. Thickness: 0.03mm - 0.05mm is commonly used to pack the display stands.
Bubble
1. Types: polyolefin foams are commonly used, and polyurethane or phenolic foams can be selected as required.
2. Density: commonly used 7kg/m cubed, 8kg/m cubed, 9/m cubed, 10/m cubed. Other densities can also be selected according to the product.
3. Thickness: commonly used 30mm. 10mm, 20mm or more than 30mm can be selected according to needs, and the recommended thickness is not more than 50mm.
Carton
1. Type: corrugated carton is used for export products.
2. Number of carton layers: there are 3, 5 and 7 layers in general. It is recommended to use 5 layers for general export products and 7 layers for large and very heavy products.
Paper angle protector
1. Types: L-type paper corner guard, U-type paper corner guard, bent paper corner guard, waterproof paper corner guard, surround paper corner guard, special-shaped paper corner guard. The display stands usually use L-shaped paper corner guard.
2. Common specifications: 30*30*3mm, 40*40*3mm, 40*40*4mm, 40*40*4mm, 45*45*3mm, 45*45*4mm, 45*45*7mm, 50*50*4mm, 50*50* 50*5mm, 80*80*4mm, 80*80*5mm, 80*80*7mm, can also be customized according to the actual needs.
How can Yishang help customers who don't know how to install the display rack?
bg
1. Each product is matched with simple and easy to understand installation instructions.
2. Shoot installation video for customers.