| | |
| --- | --- |
| Item No. | YS-1700033 |
| Item Name | DIY Paris Eiffel Tower Home Decor for Living Room and Party |
| Application | Wall Shelf, tabletop, cabinet, etc. |
| Suitable Age | More than 10 years old chid and adult. |
| Item Size | W21 * D21 * H51.5 cm. |
| Item Material | 1.0mm or 1.5mm thick stainless steel. |
| Item Color | Shiny silvery or electroplated color. |
| Item Finish | Original is mirror face. It also can be brushed, sandblasted, etc. |
| Item Trait | Beautiful and durable for home decoration. |
| Accessories | 502 glue. |
| Packaging | Packed in pieces, 8 sets in a carton. Carton size is 85*36*50 cm. |
| Net Weight | 0.73 kg. |
| Samples | Samples are available, welcome to order sample to check quality. |
| Services | YISHANG can customize products according to your requirements. |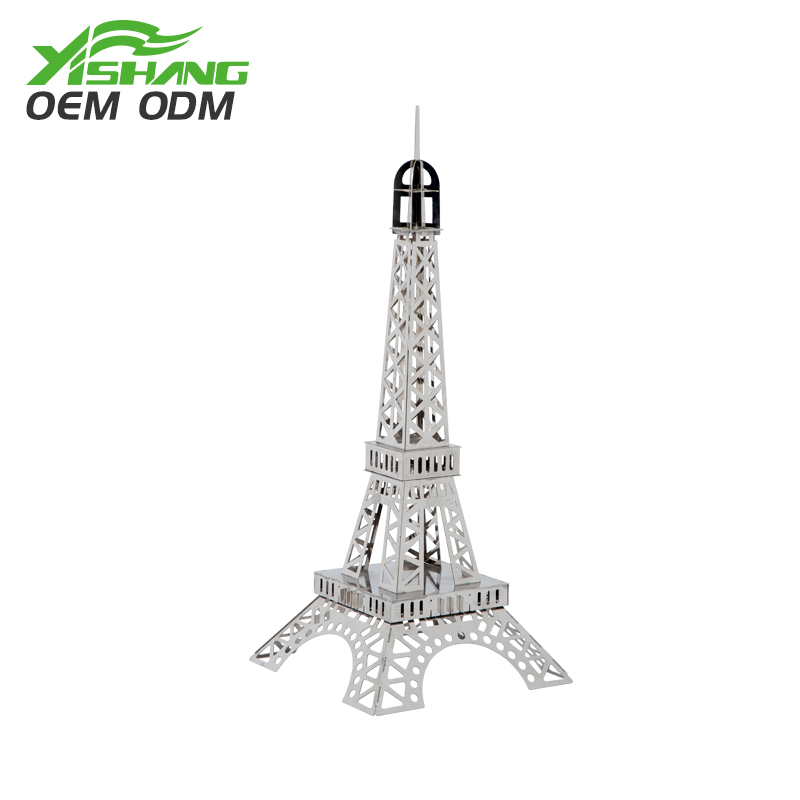 The Eiffel Tower stands at the Champ de Mars in Paris, France, with a total height of 324 meters. The tower is unique in design and is a masterpiece of technology in the history of the world. It is an important attraction and prominent symbol of Paris, France. The Eiffel Tower has experienced a hundred years of wind and rain, standing on the banks of the Seine. It is the pride of all French people and the pride of the world.
If you are a fan of the Eiffel Tower, then our reduced version of the Eiffel Tower will be your best choice! Our tower is made of stainless steel and never rusts, perfect for home decoration and collection!
This Eiffel Tower home decor is suitable for children over 10 years old and adults. When children reach the right age, they begin to develop their incomparable curiosity and imagination. At this time, parents should choose a suitable assembly model for their children.Metal model is the best toy to train children's intelligence. It can develop children's spatial perception, creativity, organization, understanding, endurance and interest in architectural science.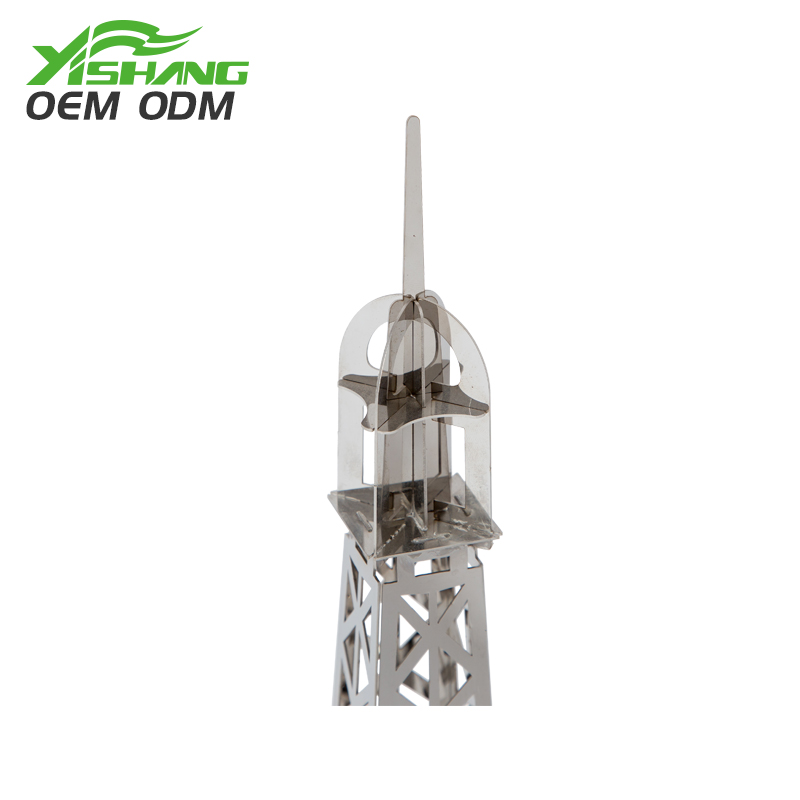 Top
The size ratio is close to the Eiffel Tower, and the overall appearance is beautiful.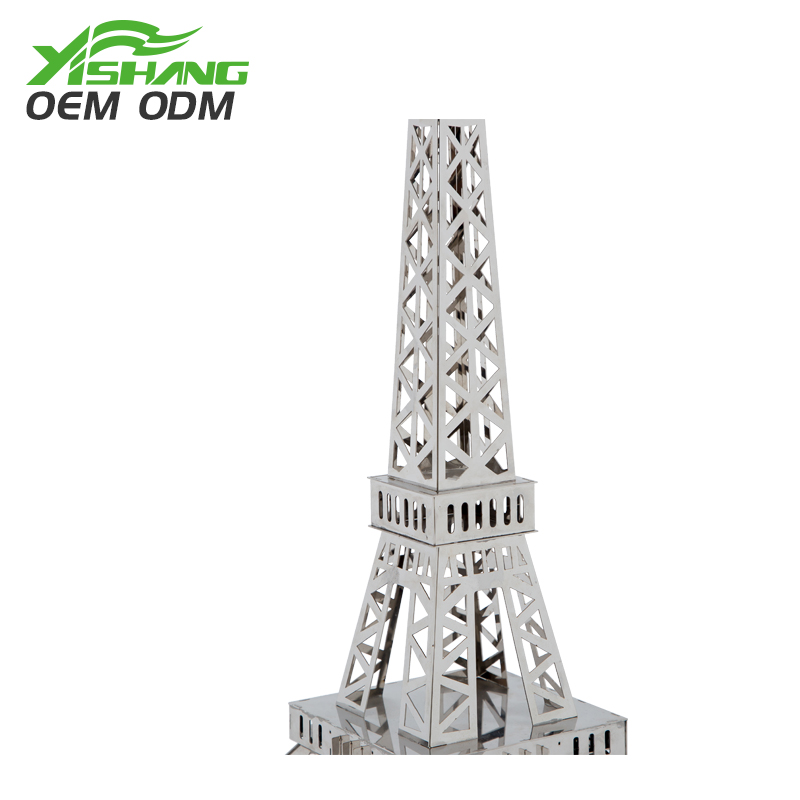 Middle
Fine workmanship and chic, cutting with advanced laser machine.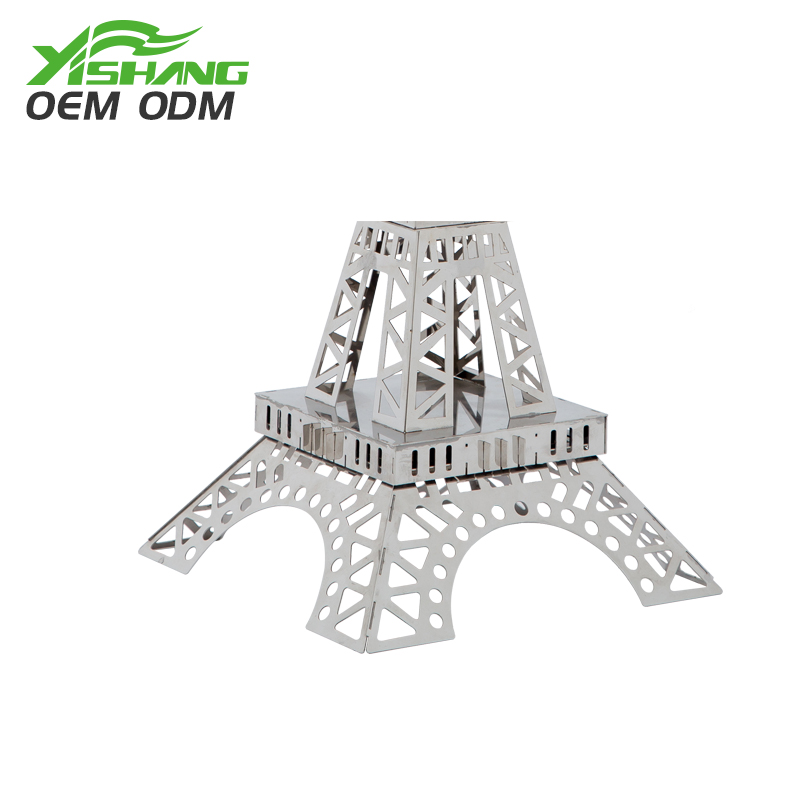 Base
Mirror face stainless steel, looks shiny and give people a feeling of the star of the eternal.
We have simplified many installation details in the design to facilitate the assembly for customers.
The whole Eiffel Tower decor is divided into three parts: top, middle and bottom. Assemble the tower according to the attached product instructions. Use 520 glue to splice each part and then fix the three parts together.
Package size: 850*360*500 mm
Package method: 8 pieces / carton, gross weight of one carton is 7kg.
Package material: PO plastic bag, foam and KAA carton.
Don't know how to install?
bg
If you don't know how to install the Eiffel Tower decor, don't worry. Yishang will help you.
1. Each product is equipped with simple and easy to understand installation instructions.
2. Shoot the installation video for you.