Item No.

YS-900146

Product Name

Custom Rotating Metal Product Display Stands with Wheels

Usage
The product display stand is multipurpose. It can display eyewear, keychain and other products in bags.


Material

1. Cold rolled steel: 0.8mm or 1mm

2. Steel wire (hook) : you can choose diameter of 3mm, 4mm or 5mm .




Size

1. Standard size: the upper part is a cuboid of 240*240*1800mm for displaying products. The lower part is

a square of 400*400*25mm bottom, used to support the upper part.

2. Customized size: the size can be customized according to the needs. Considering the normal people height,

the recommended height is not over 1900m.

Item Finish

1. Regular colors: white, black or gray.

2. Customized color: the color of powder coating can be selected from Pantone or RAL color card, and the

high-grade metal display stand can also choose the gradual color of spray painting.




Assembly Structure

1. Disassembly can not save packaging volume: the upper part of this rotating display stand is a cuboid with a

height of 1800mm. Disassembly can not save packaging volume and it will increase packaging cost.

2. Disassembly will increase the installation cost: the product display stand must be installed by two people,

and the installation time is 15 - 30 minutes.

Sample

Welcome to purchase a sample or customize a sample to check the quality.

Services

1. Free 3D design sketch within 24 hours.

2. We provide custom services of all kinds of display stands.
Logo on Top
1. Number of logo: two-sided display or four-sided display.
2. Logo methods:
1) Stickers: four-color printed stickers can be replaced regularly after being torn off.
2) Insert logo from side: transparent PETG material cover, insert paper, cardboard or PVC board logo, change freely.
3) Silk-screen printing: contents cannot be selected flexibly and cannot be replaced.
4) UV printing: the content selection is flexible, and there is a sense of stereoscopic gloss, but it cannot be replaced.
Acrylic Mirror
Such products are used in glasses stores, jewelry stores, women's supplies stores, it is suggested to increase acrylic lenses, easy for guests to see the effect.

1. Thickness of lens: recommended 2mm, 3mm or 4mm.

2. Tightening mode:

1) It is recommended to use universal adhesive to paste, which can be used for at least 3 years without falling off.
2) For convenience, double-sided adhesive tape can also be used to paste directly, which can be used for about 1 year.
3. Features:
1) Environmental protection acrylic material, light weight, even if it falls will not hurt people, not to break.
2) A 30-degree Angle allows people of different heights to see the effect in the mirror.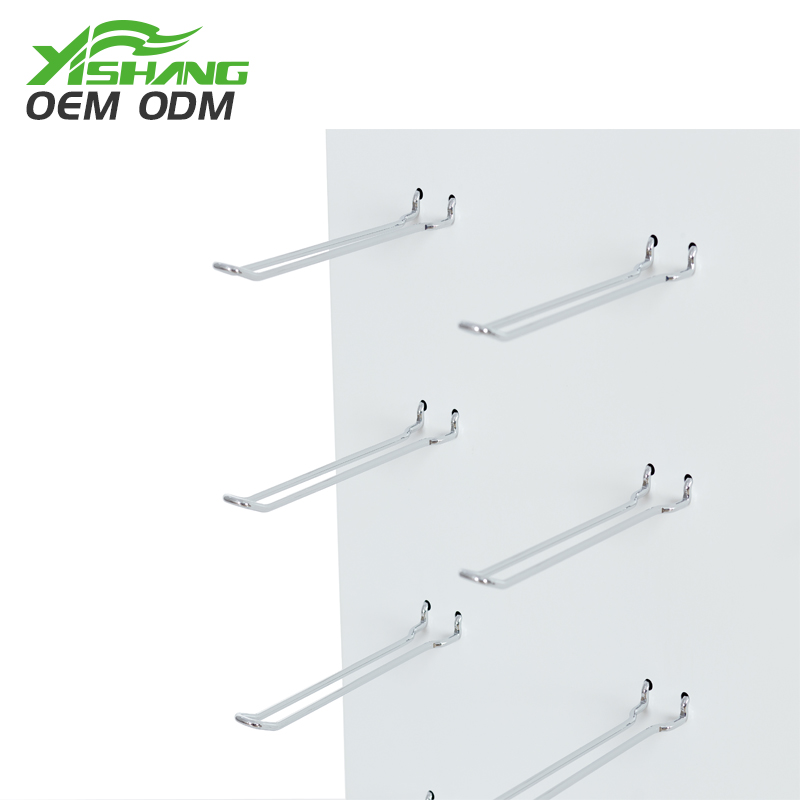 1. Hole size: our company adopts the hole with a diameter of 6mm, which can be selected from 5mm to 8mm, and it can be used with the hook of corresponding size.
2. Hole distribution:
1) Horizontal distribution: only 1 hook can be used for each line in the upper half, and the spare area on the right side is used for printing or pasting brand advertisements. If no advertisement is needed, 2 hooks can be used instead. The lower half has 8 circular holes with spacing of 19mm in each row, and can use 4 hooks. At the same time, the hook hole of the whole display shelf can also be the same as the design of the lower part, so that the position of all hooks can be adjusted at will.
2) Distribution of vertical row holes: the height interval of each row of holes is 105mm, which can be increased or shortened to reduce or increase the number of rows of holes according to the actual needs of customers.
Hooks:
1. Applicable types
1) One-layer net board hook: only commodities can be hung, and it is difficult to mark commodity information.
2) Double-layer net board hook: the upper label displays the product information, while the lower one displays the products.
2. Specification
1) Thickness of metal wire: conventional 3.5mm - 6mm, 4mm adopted by our company.
2) Hook length: 100mm - 350mm is conventional, 180mm is adopted by our company, and the length can be customized according to needs.
3. Quantity: 16 hooks are standard on each side, 64 hooks in total on four sides. The required quantity can be configured according to the actual size of the commodity.
4. Advantages: the front end of the hook folds up to prevent the products from falling from the hook when customers select the product.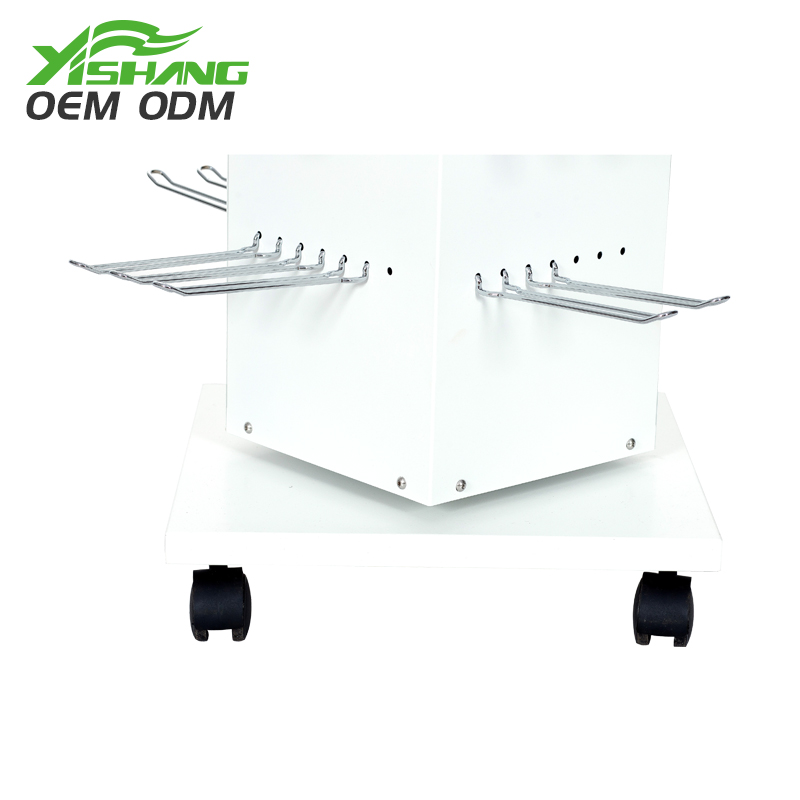 Rotary bearing
1. Category: pressure rolling bearing
2. Position: directly above the square bottom.
3. Advantages: no sound during rotation and smooth rotation. Rolling bearings are easy to use and maintain, and work reliably. The rolling bearing has low friction coefficient, good starting performance and high bearing capacity at medium speed, which is recommended by our company.
Bottom
1. Shape: square, rectangle, circle or oval bottom can be used.
2. Size: 400*400*25mm, can be customized according to needs.
Castor
1. Common caster: it can only be used on flat ground, and the product is easy to slide when rotating.
2. Brake caster: it can be used for inclined ground, and the product won't slide when rotating. It is recommended to use.
3. Adjustable casters: adjust the distance between the metal display stand and the ground, which can be used for uneven ground to maintain the balance of the metal display stand.
Plastic bags:
1. Type: the display stands are mainly used PO or PE plastic bags (non-toxic).
2. Thickness: 0.03mm - 0.05mm is commonly used to pack the display stands.
White Form:
1. Types: polyolefin foams are commonly used, and polyurethane or phenolic foams can be selected as required.
2. Thickness: commonly used 30mm. 10mm, 20mm or more than 30mm can be selected according to needs, and the recommended thickness is not more than 50mm.
Corrugated Carton:
1. Type: corrugated carton is used for export products.
2. Number of carton layers: there are 3, 5 and 7 layers in general. It is recommended to use 5 layers for general export products and 7 layers for large and very heavy products.
Paper angle bead:
1. Types: L-type paper corner guard, U-type paper corner guard, bent paper corner guard, waterproof paper corner guard, surround paper corner guard, special-shaped paper corner guard. The display stands usually use L-shaped paper corner guard.
2. Common specifications: 30*30*3mm, 40*40*3mm, 40*40*4mm, 40*40*4mm, 45*45*3mm, 45*45*4mm, 45*45*7mm, 50*50*4mm, 50*50* 50*5mm, 80*80*4mm, 80*80*5mm, 80*80*7mm, can also be customized according to the actual needs.
How is the production capacity of YISHANG?
bg
1. The expected production cycle of product parts is very important, and reasonable arrangement of production sequence is the key.
2. Use up the machinery and adjust the operation of professionals.
3. If there is a problem in the process of production, it will be suspended for one hour, and the management will decide the test of the three schemes through discussion within one hour, and the production will continue within two hours.