Product Number

YS-900156

Product Name

Custom Promotion Metal Wire Basket Display Rack for Stores

Application
This metal display rack can be used at retail stores, underwear stores, variety stores, etc.





Material


1. Cold rolled steel: used for basket hanging handle and bottom, basket handle thickness can be

used 3mm - 5mm, the bottom thickness can be used 4mm - 6mm.

2. Steel square pipe: used for column, pipe wall thickness can be used 1mm - 2mm.

3. Steel wiret: used for basket, thickness can be used 3mm, 4mm or 5mm.

Size

1. General size: 770*450*1700mm, 870*550*1800mm or 920*600*1900mm.

2. Customized size: basket size and height of the wire display rack can be customized according to

actual needs. Considering customer using experience, the height is recommended not to exceed 1900mm.

Product Finish

1. General colors: white, black and silver.

2. Customized colors: the colors can be customized according to pantone or RAL, and the baskets and

stand column can be two different colors.




Disassembly Structure

1. The assembly package is not stable: the basket is directly inserted into the stand column, which is very

active and easy to move around in the package, leading to collision.

2. Packaging volume can be saved by disassembly: the basket can be stacked and reduced the package

volumn.

Sample

Welcome to purchase sample to inspect if you are interested in this promotion wire display rack.

Services

1. Free 3D design sketch within 24 hours.

2. Yishang offers custom services of various of display racks.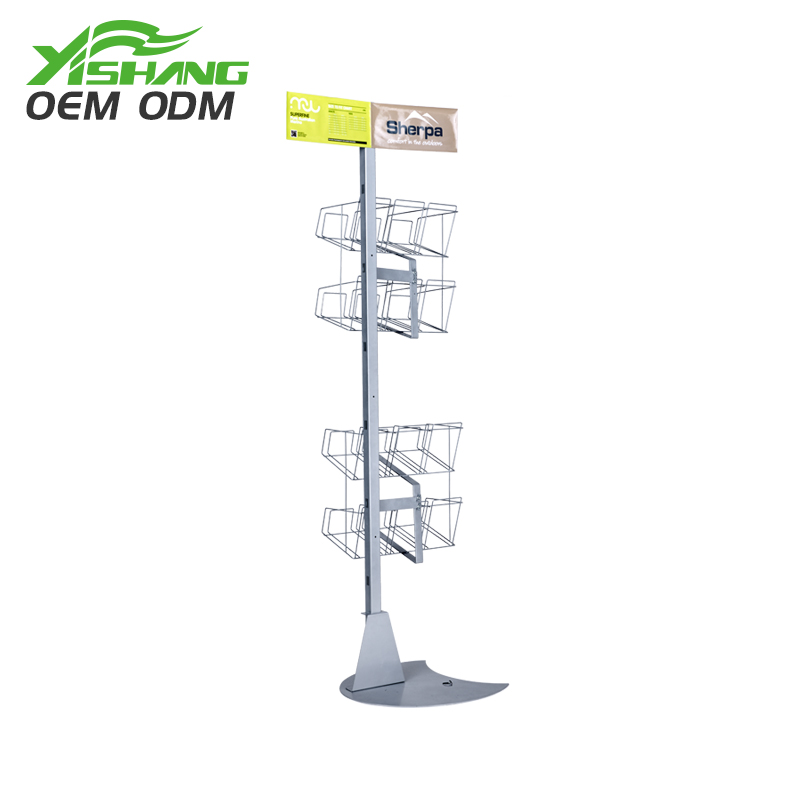 Logo Header
1. Slot method: the top of the column is equipped with a slot, and the header is directly stuck in the slot. Acrylic, PVC board or cardboard materials are recommended.
2. Hook method: hook is configured behind the header, which is directly hung on the column wall. Acrylic or metal materials are recommended.
3. Paste method: the back of the header is equipped with backglue, which is directly pasted on the surface of the column. Carboard or PVC board materials are recommended.
Stand Column
1. Specifications: we use 40*40mm, or can be used 35*35mm, 45*45mm, 50*50mm.
2. Hanging holes:
1) Specification: width 4mm * height 30mm, it is recommended to keep the height at 30mm and the width varies according to the thickness of the basket handle.
2) Distribution: 7 rows of hanging holes are distributed on both sides of the original design column, 2 in each row. Can be customized according to the needs of 5-10 rows of hanging holes from by adjusting the position of the basket.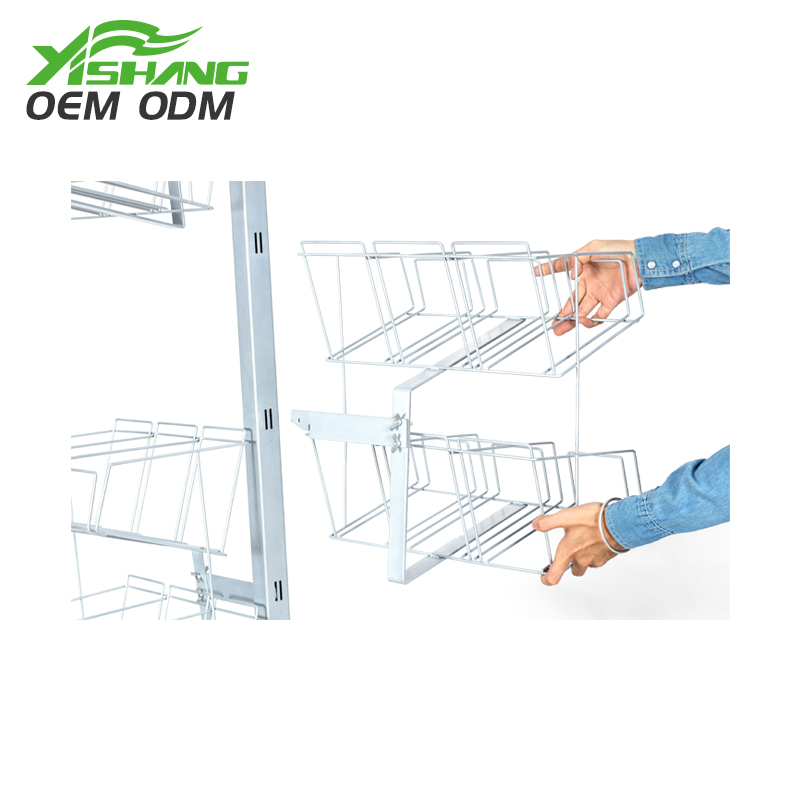 Baskets
1. Distance between steel wire: the distance between the steel wire can be customized according to the commodity type.

1) Small commodities: it is recommended that the steel wire spacing be 20mm - 50mm.
2) Large commodities: it is recommended that the steel wire spacing be 50mm - 100mm.
2. Basket quantity:
1) One or two baskets can be made for each layer as needed. In order to move flexibly, no more than two baskets are recommended for each layer.
2) The maximum hanging capacity of the whole metal display rack is 14 baskets, for beautiful sex, suggest to hang at least 8 basket.
3. Basket handle: the following two kinds of screws can be used to tighten the basket
1) Butterfly screw: tool-free installation, fastening handle and basket with bare hands.
2) Cross screw: screw driver is needed to tighten it.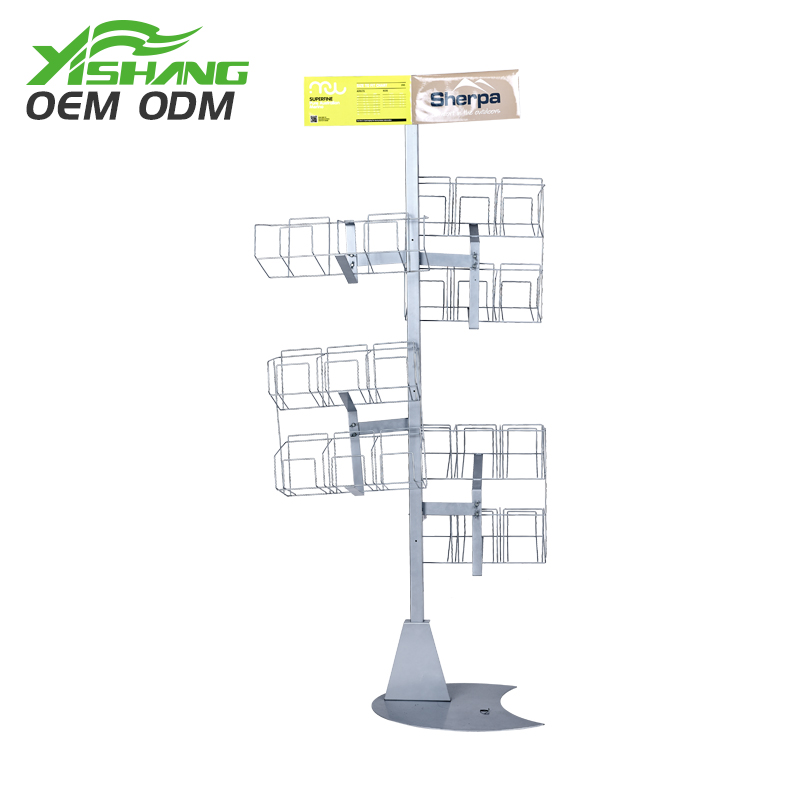 Bottom
1. Connection between column and bottom: screw fastening, free disassembly. Welding is not recommended. Welding is not easy to package and will increase the package volume.
2. Auxiliary support: the original design adopts trapezoidal auxiliary support to make the stand column more stable. Other shapes, such as square, triangle and so on, can also be used according to buyers' preference.
3. Bottom style: the original design is a special "moon" style, which can be round, oval and other styles, or customized according to the buyer's logo pattern.
4. Ground touch methods:
1) Direct touch with the ground: when moving, the bottom of the metal display rack and the ground are easy to scratch each other.
2) Adjustable feet to touch the ground: avoid direct touch with the ground when moving. Can also prevent uneven ground, maintain the balance of the metal display rack.
The metal display rack will be packed with plastic bag, foam, carton and paper angle bead.
1. Plastic bags: 0.03mm - 0.05mm PE or PO bag is commonly used to pack the display racks.
2. Foam: 30mm thickness white foam is used for general display racks, the recommended thickness is not more than 50mm.
3. Corrugated Carton: there are 3, 5 and 7 layers in general. It is recommended to use 5 layers for general export products and 7 layers for large and very heavy products.
4. Paper angle protector: The display racks are usually used L-shaped paper corner guard. Common specifications: 30*30*3mm, 40*40*3mm, 40*40*4mm, 40*40*4mm, 45*45*3mm, 45*45*4mm, 45*45*7mm, 50*50*4mm, 50*50* 50*5mm, 80*80*4mm, 80*80*5mm, 80*80*7mm, can also be customized according to the actual needs.
How to maitain the display rack?
bg
1. Avoid bumps.
2. Clean dust.
3. Stay away from acids and bases.
4. Stay out of the sun.
5. Insulate from moisture.
If you want to get more details, welcome to contact us now!