Product Number

YS-900026

Product Name

Custom Metal Pegboard Product Display Stand With Hooks for Shops

Usage
Key chain, chips and other pouch goods.




Material

1. Steel plate: pegboard and frame thickness can be used for 0.8mm - 1.5mm, circular bottom thickness

can be used for 3mm - 5mm.

2. Steel pipe: 25mm - 35mm in diameter.

3. Steel wire: thickness can be used for 3mm - 5mm.

Size


1. General size: 500*500*1700mm, 400*400*1600mm or 600*600*1800mm.

2. Customized size: the size can be customized according to needs, and the recommended height is no

more than 1800mm.

Surface Treatment

1. Regular color: white or black powder.

2. Customized colors: colors can be customized according to product features.




Assembly Structure


1. Packaging volume cannot be saved by disassembly: this product is designed as a cuboid, and the supporting

round tube (1700mm) is not disconnected.

2. Disassembly increases the installation cost: this product display stand must be installed by two people,

mainly by screw fastening, and the installation time is 15 - 30 minutes.

Sample

Welcome to order a sample to test our ability if you are interested in our pegboard display stands.

Services

1. Free 3D design sketch within 24 hours.

2. We offer custom services of all kinds of display racks.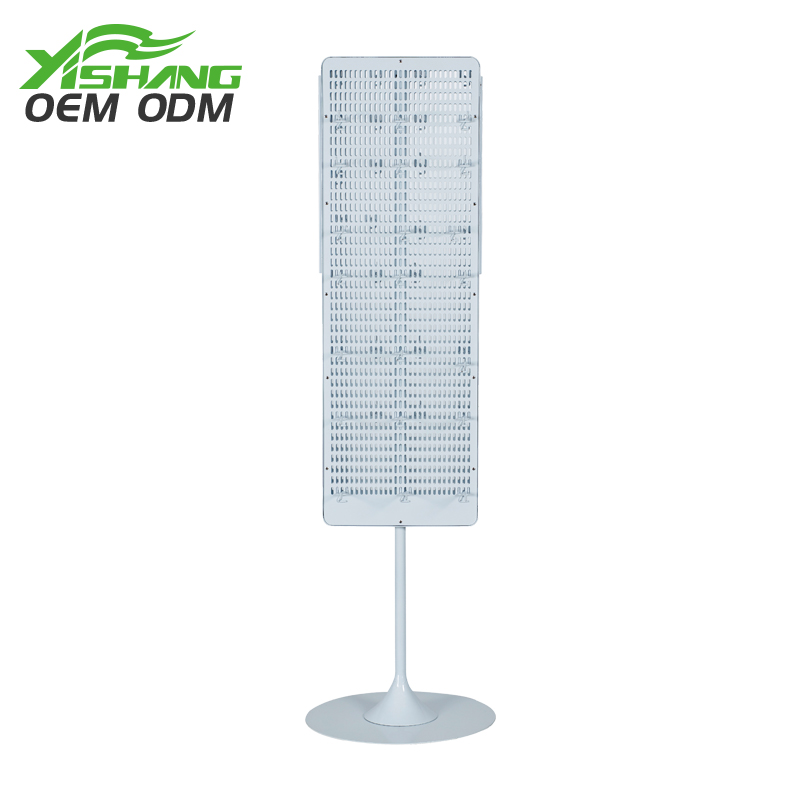 Rectangle Frame
1. Rounded corner design:
When collision occurs, avoid hurting people by sharp right angles. R30-R60 can be used for rounded corners.
2. Installation method:
There is an installation hole at the bottom of the frame. The round tube must be inserted from the installation hole to the top of the frame and tightened with screws to ensure the stability of the frame.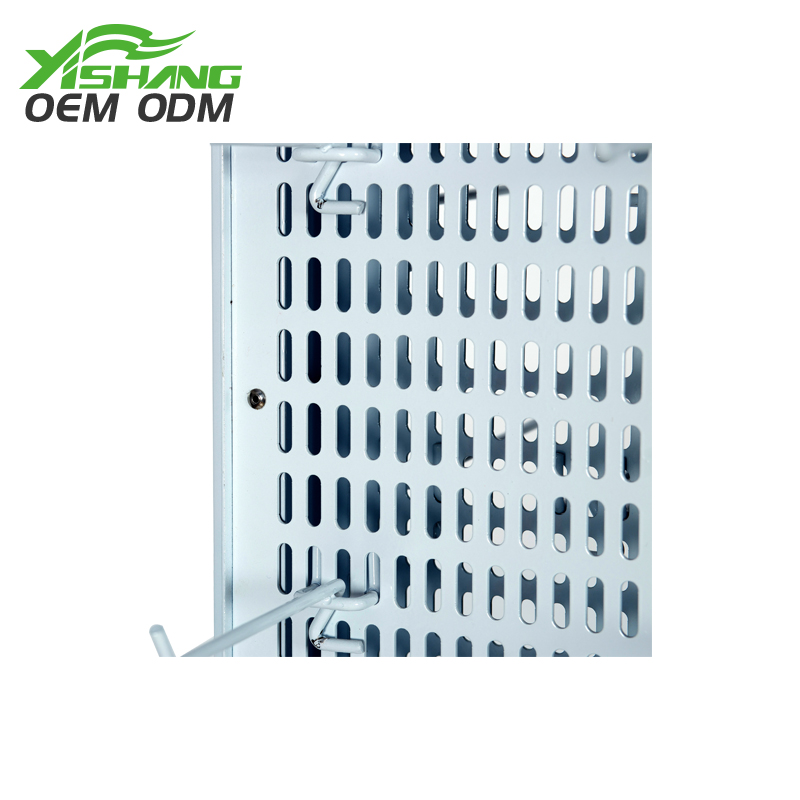 Pegboard
1. Hole shape: oval or round.
2. Hole size:
1) Oval hole: the common size is 5mm * 20mm, the size is recommended to be between 5mm and 7mm, and the height is recommended to be between 15mm and 25mm, otherwise it is inconvenient to hang the hook.
2) Circle hole: the diameter can be selected between 5mm and 7mm, and it can be used with the corresponding hook.
3. Number of holes:
1) When the hole diameter is 5mm, there are 29 holes in each row. The number of holes varies according to the diameter of the holes.
2) The number of hole layers can be selected according to the shape and size of holes. 30 to 40 layers are recommended for oval holes and 50 to 60 layers for circular holes.
4. Fixing method:
Use fasteners to fix it, can not be welded. Rivets or screws are available for fasteners.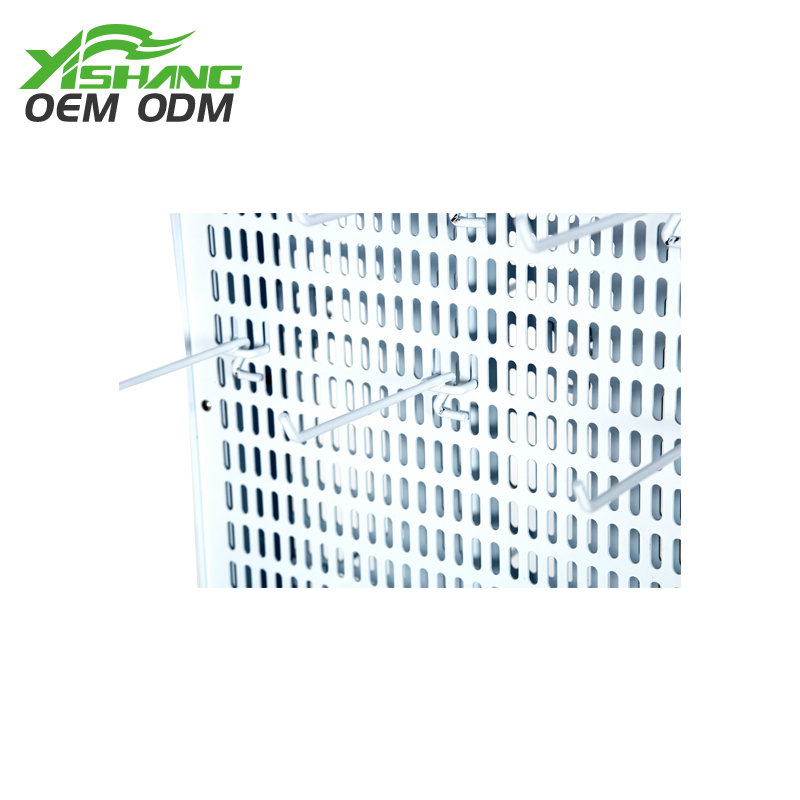 Hooks
1. Applicable types:
1) Single pole net board hook.
2) Double poles net board hook.
2. Hook specification:
1) Thickness of the pole: 3.5mm, 5mm, 6mm, or customized.
2) Hook length: 100mm, 150mm, 200mm, 250mm, 300mm, 350mm, or customized.
3. Quantity:
20 hooks are standard on one side and 40 hooks on two sides. The required quantity can be configured according to the actual size of the commodity.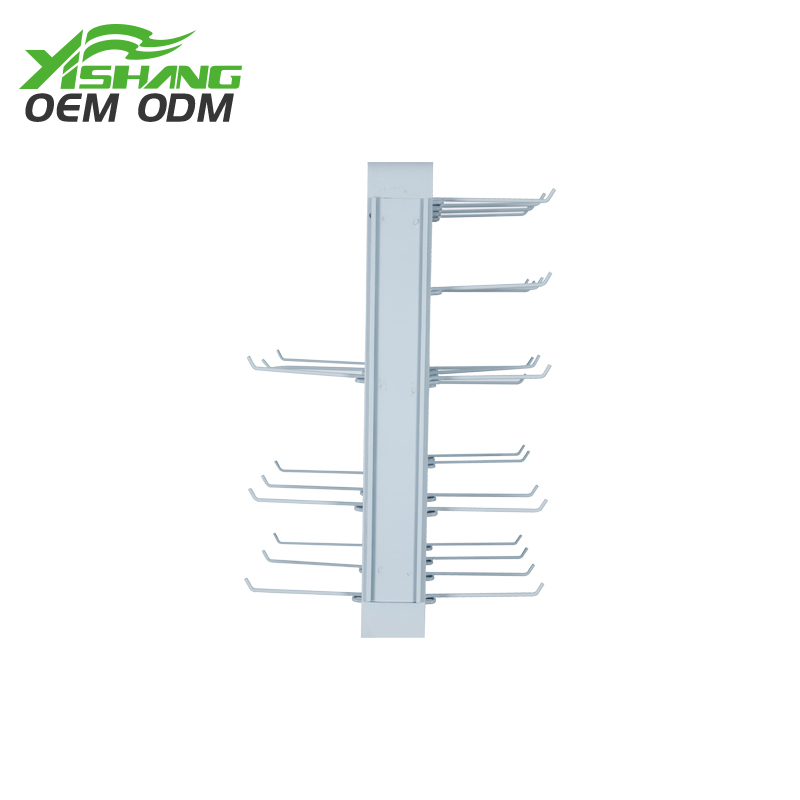 Advertisement on Two Sides
1. Replaceable advertisement:
Weld rectangular slots on the side of the product display stand, and insert cardboard or PVC board advertising. It is very convenient to replace the advertisement when you take it out. (as shown in the picture)
2. Non-replaceable advertising:
Screen printing or UV printing can be used. Although UV printing is more expensive than screen printing, the advertising content is three-dimensional and more flexible.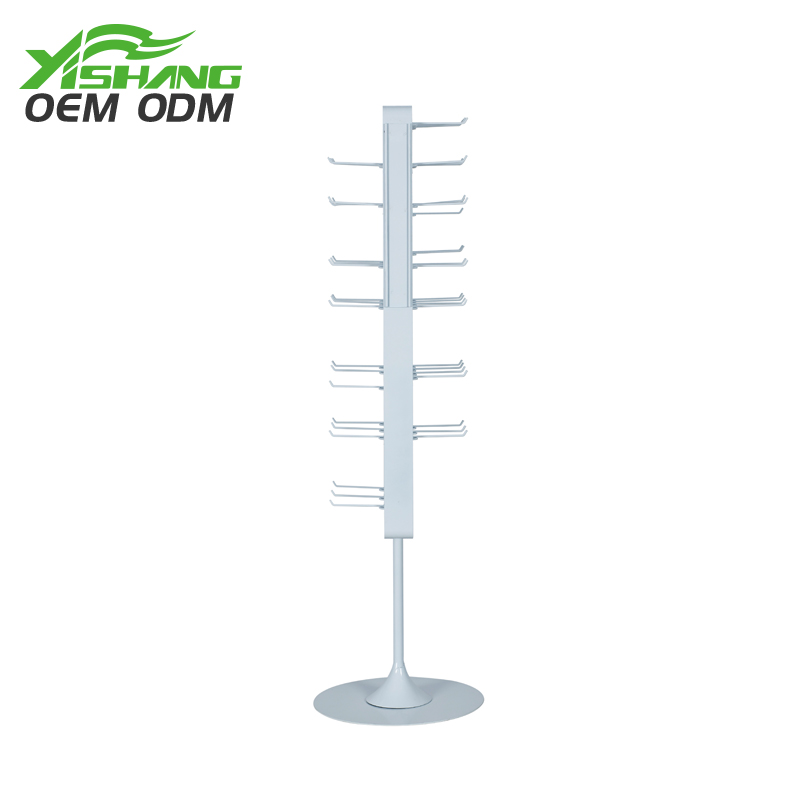 Bottom
1. Connection way of round pipe and bottom:
Our company uses direct welding. Or use lathing fittings lock the screw, screw diameter is recommended in M10 - M15.
2. Shape:
Our company uses a circle with a diameter of 50mm and a thickness of 5mm. Oval, rectangular or other irregular shapes can be selected according to your preferences. The bottom size can be customized according to actual needs.
Plastic bags
1. Type: the display stands are mainly used PO or PE plastic bags (non-toxic).
2. Thickness: 0.03mm - 0.05mm is commonly used to pack the display stands.
Bubble
1. Types: polyolefin foams are commonly used, and polyurethane or phenolic foams can be selected as required.
2. Density: commonly used 7kg/m cubed, 8kg/m cubed, 9/m cubed, 10/m cubed. Other densities can also be selected according to the product.
3. Thickness: commonly used 30mm. 10mm, 20mm or more than 30mm can be selected according to needs, and the recommended thickness is not more than 50mm.
Carton
1. Type: corrugated carton is used for export products.
2. Number of carton layers: there are 3, 5 and 7 layers in general. It is recommended to use 5 layers for general export products and 7 layers for large and very heavy products.
How to delay the service life of the display racks?
bg
1. Keep the display rack clean. When cleaning, use semi-wet cloth to wipe the surface.
2. Avoid scratching the display rack with sharp objects or colliding the display rack with heavy objects.
3. Do not expose the indoor display rack to the sun for a long time to avoid surface deformation.