Custom Glasses Display Rack for Belgium Customer
Country: Belgium
Customer Goal: Customize two types of metal glasses display rack
Pain points of customer:
1. Worried about whether china manufacturers have design capability or not.
2. The cardboard display racks they purchased in 2015 are not strong. Worried about the durability of metal display racks.
3. Customer is far away from Chinese suppliers, and the cost of quality inspection in the factory is relatively high.
Product Name: Custom metal rotating floor standing glasses display rack with hooks
IS is a representative sales organization in 15 European countries, distributing several world leading brands. Yishang help IS bring their idea into 3D drawing and real products. After the sample testing in June, 2017, mass order was confirmed in September, 2017. Orders in 2018 and 2019 are also coming.
Why IS would choose us?
1. Design from a practical perspective
To let users can move the display rack easily but also can fix the display rack on specified location, we design to use lockable strong wheels.
To let consumer can see their looking with eyewear easily, we design to add well angled and four-side mirrors after our own testing.
To let retailers can storage goods and replenish goods conveniently, we design to use magnetic cabinet on the base. At the same time, the whole rack will be more good looking.
To highlight customer's brand ambassadors pictures, we design to stick four-side pictures on the base cabinet.
2. Consider from customer's side
To save international shipping cost, we suggest customer check and confirm samples by video or picture.
To save manual installation fee in customer's local country, we pack and ship out display rack after well installed.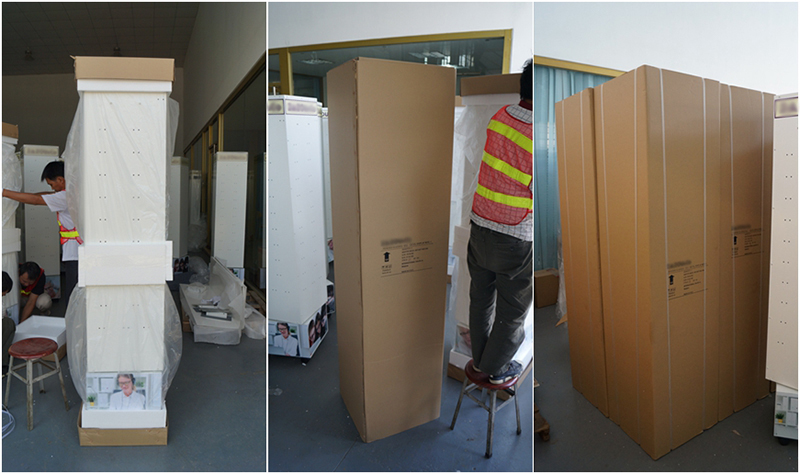 3. One stop service solution
Yishang provide design and manufacturing one stop service, saving IS about 30% design cost. After the conception, Yishang design team draws 3D drawings within 24 hours.
4. Testing and adjusting to the sample
We tested continuously throughout the production process. Once the problem is found, we modify the production drawings within 3 hours. In the production of the sample, the problem that the rotary bearing emits made little noise when rotated has been solved. At the same time, the firmness of the metal display frame that IS is most worried about is also solved in the sample test.

5.Controlling the production of bulk orders
Control: Yishang had self-inspection quality of self-test from all aspects: anti-scratch, logo sticker color code confirm, firmness of mounted picture, wheel fluency, mirror clarity, weight, tilt test and so on.
Loading: When the container reached to Yishang, the salesman confirmed whether the cabinet is damaged firstly. While loading, salesman inspect whether the goods are placed in accordance with the layout of the technical department to avoid the problem of crushing the goods. At the same time, reconfirm whether the quantity of the goods matched and whether the shipping marks were correct.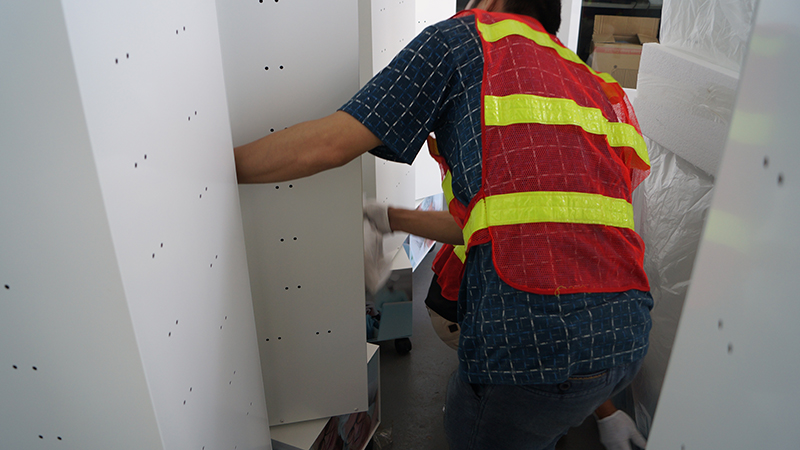 6. Strict control of quality
Yishang self-inspection: 100% full inspection of the products.
Third-party inspection: IS arranged third-party company to inspect and found 2% tiny defects. Yishang arranged to resolve it within 2 days, and sent detailed pictures to IS for confirmation, which won the understanding of IS.