Product Number

YS-900145

Product Name

Custom Eyeglasses Shop Metal Rotating Display Stand with Hooks

Usage
This metal display stand is multifunctional. It can display eyeglasses, keychain and other products in bags.


Material

1. Iron plate: 0.8mm-1mm is commonly used

2. Iron wire (hook) : commonly used is 3mm - 5mm.

Size

1. General size: 350*350 *1780mm, 400*400*1830mm or 450*450*1850mm.

2. Customized size: the size can be customized according to the needs. Considering the height of normal

people, it is recommended not to exceed 1850mm.

Product Finish

1. Regular color: white powder coating or spray painting.

2. Customized color: colors can be selected from Pantone or RAL color card, but the minimum order quantity

should reach 300 sets.




Assembly Structure

1. This product is designed as regular cuboids. Disassembly cannot save packaging volume, but also increase

packaging cost.

2. Disassembly will increase the installation cost, this eyeglasses display stand must be installed by two people,

and the installation time is 15 - 30 minutes.

Sample

Welcome to purchase a sample or customize a sample to check the quality.

Services

1. Free 3D design sketch within 24 hours.

2. Yishang offers custom services of all kinds of display stands.
Logo on Top

1. Number of logo: two-side display or four-side display.
2. Logo methods:
1) Silk-screen printing: the content is single and cannot be replaced.
2) Stickers: four-color printed stickers can be replaced with new stickers when torn off.
3) Inserted logo: transparent PVC cover, inserted paper logo, free replacement.
Acrylic Mirror
1. Application: eyeglasses and accessories.
2. Mirror thickness: recommended 2mm - 4mm, we use 3mm.

3. Fixed mode:

1) Use double-sided adhesive tape directly paste, but easy to fall after a long time.
2) Use universal glue paste, it is not easy to drop after a long time.
4. Advantages:

1) Acrylic material, light weight, even if the fall will not hurt people, not to break.
2) A 30-degree angle allows people of different heights to see the effect in the mirror.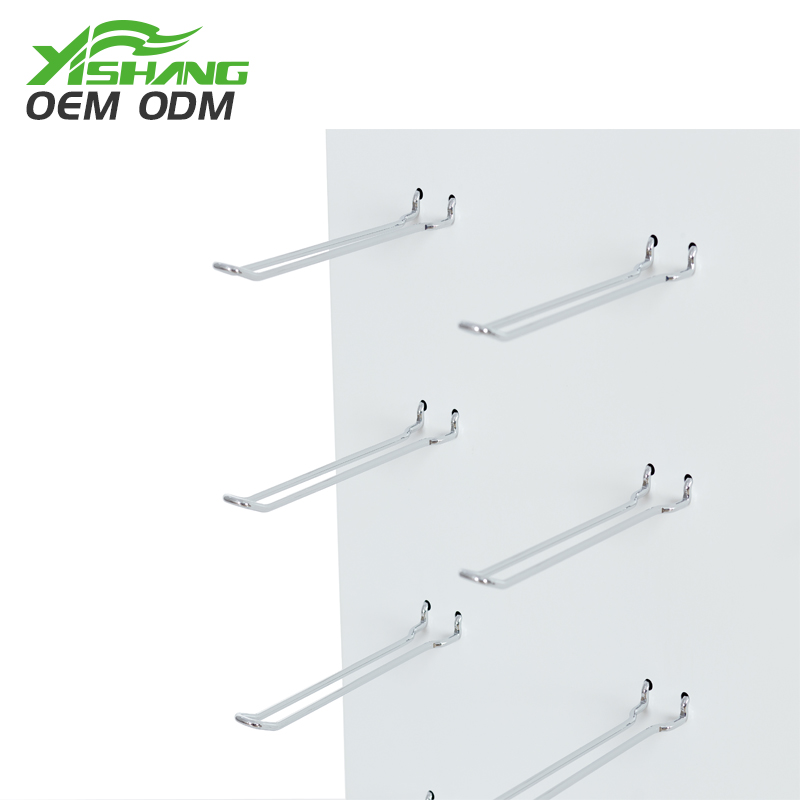 1. Hole size: The hole diameter we use is 6mm, which can be selected from 5mm to 8mm, and can be used with the hook of corresponding size.
2. Hole distribution:
1) Distribution of horizontal row holes: 1 pair of holes are used for a hook. The original design line has 2 pairs of holes (2 hooks), and the free area on the right is used for advertising. If advertising is not needed, it can be changed to 3 pairs of holes (3 hooks). If the product size varies greatly, it can be changed to have 20 circular holes with spacing of 19mm in a row according to the actual needs, so that the hook can adjust the position at will.
2) Distribution of vertical row holes: the height interval of each row of holes is 105mm, which can be increased or shortened to reduce or increase the number of rows of holes according to the actual needs of customers.
Hooks:
1. Applicable types: (1) Single pole net board hook. (2) Double pole net board hook.
2. Specification: (1) Thickness of wire: common is 3.5mm - 6mm, 4mm adopted by us. (2) Hook length: common is100mm-350mm, 180mm is adopted by us, and the length can be customized according to needs.
3. Quantity: 20 hooks are standard on each side, with a total of 80 hooks on four sides. The required quantity can be configured according to the actual size of the commodity.
4. Features: The front end of the hook folds up to prevent the product from falling from the hook when customers select the product.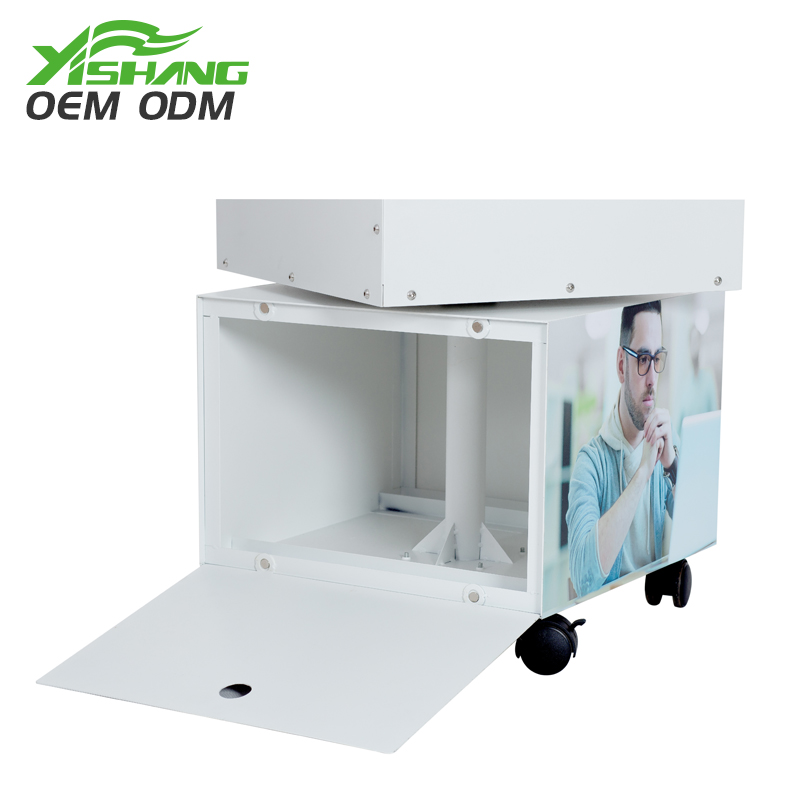 Rotary bearing
1. Category: pressure rolling bearing
2. Position: above the locker.
Store Cabinet
1. Cabinet door:
(1) Magnetic door: a hole with a diameter of 20mm-30mm is required at the top of the door to open or close the door, which is beautiful and convenient.
2) Hinged door: mailbox lock can be installed in the middle of the door, including 2 spare keys, suitable for valuables.
2. Advertising methods:
1) Silk-screen printing: print simple logo or brand information.
2) UV printing: printing glossy three-dimensional logo or brand information.
3) Stickers: you can use not only logo, but also pattern.
4) Inserted advertisement: the left and right ends of each side of the cabinet are configured with slots to freely change advertising information. The advertisement is recommended to use cardboard or PVC board.
5) Mixed advertising methods: it is suggested to stick painting and screen printing, stick painting and UV printing, illustration and screen printing, illustration and UV printing.
Castor
1. Brake casters: they can be used for inclined ground and won't slide when the product rotates. Our company adopts them.
2. Common caster: it can only be used on flat ground, and the product slides easily when rotated.
3. Adjustable casters: adjust the distance between the exhibition frame and the ground, which can be used for uneven ground to maintain the balance of the exhibition frame.
Plastic bags:
1. Type: the display stands are mainly used PO or PE plastic bags (non-toxic).
2. Thickness: 0.03mm - 0.05mm is commonly used to pack the display stands.
White Form:
1. Types: polyolefin foams are commonly used, and polyurethane or phenolic foams can be selected as required.
2. Thickness: commonly used 30mm. 10mm, 20mm or more than 30mm can be selected according to needs, and the recommended thickness is not more than 50mm.
Corrugated Carton:
1. Type: corrugated carton is used for export products.
2. Number of carton layers: there are 3, 5 and 7 layers in general. It is recommended to use 5 layers for general export products and 7 layers for large and very heavy products.
Paper angle bead:
1. Types: L-type paper corner guard, U-type paper corner guard, bent paper corner guard, waterproof paper corner guard, surround paper corner guard, special-shaped paper corner guard. The display stands usually use L-shaped paper corner guard.
2. Common specifications: 30*30*3mm, 40*40*3mm, 40*40*4mm, 40*40*4mm, 45*45*3mm, 45*45*4mm, 45*45*7mm, 50*50*4mm, 50*50* 50*5mm, 80*80*4mm, 80*80*5mm, 80*80*7mm, can also be customized according to the actual needs.
How to get from Hong Kong to Yishang?
bg
1. Hong Kong Tsim Sha Tsui ferry terminal → Zhongshan Port (90 minutes) → Yishang (40 minutes), the whole journey only takes 130 minutes.

2. Ferry terminal of Hong Kong airport → Zhongshan Port (90 minutes) → Yishang (40 minutes), the whole journey only takes 130 minutes.