Product Number

YS-700048

Product Name

Custom Design Makeup Cosmetic Shelves Display Rack Ideas

Usage
The makeup display rack can be used for all kinds of makeup, perfume or other bottled products.

Materials


1. Thickness of metal plate: 0.8mm or 1.0mm

2. Metal wire thickness: 0.3mm, 0.4mm or 0.5mm

Size

1. Standard size: 560 x 300 x 1700 mm or 600 x 340 x 1800 mm

2. Non-standard size: non-standard size can be customized according to actual needs.




Product Finish

1. Powder coated: common is white or black, colors can be selected in Pantone or RAL, but the minimum

order quantity should reach 100 pieces.

2. Painted: can choose pure color or gradient freely, the cost is twice higher than powder coated.




Product Features

1. Durable.

2. Two-sided display.

3. Elegant design.

4. Wide range of uses.




Disassembly Structure


1. The square tube is packed in a single package, the shelves and the base are packed in a single package,

which is convenient for handling and saves packaging volume for domestic and foreign transportation costs.

2. Only 28 screws need to be installed in the corresponding hole position, and one person can complete the

installation in 15 minutes.

Sample

Welcome to purchase sample to inspect if you are interested in this cosmetic display rack.

Services

1. Free 3D design sketch within 24 hours.

2. Yishang offers custom services of all kinds of display stands.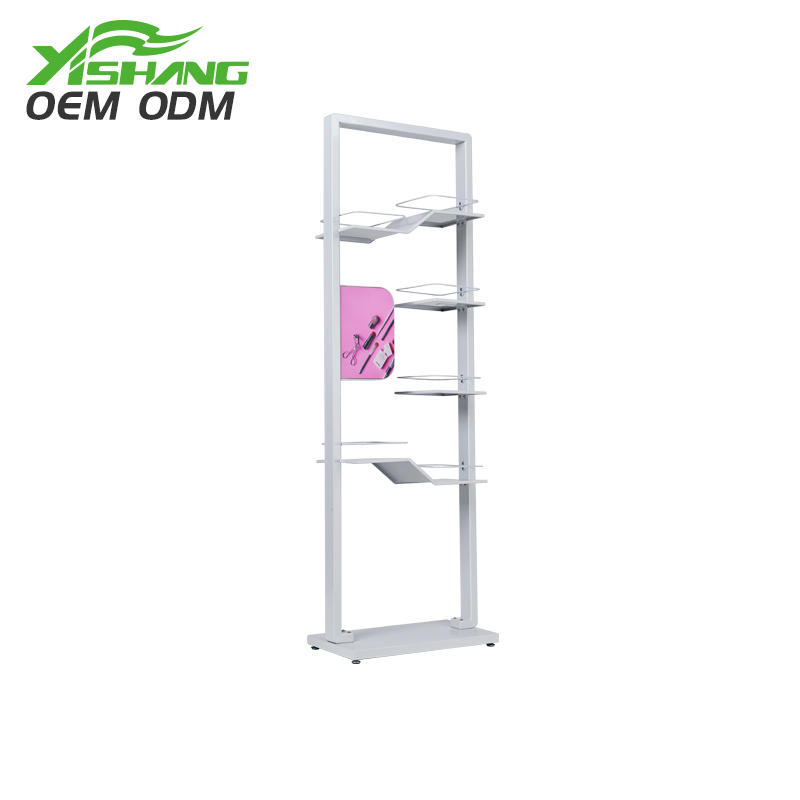 Rectangular Supporting Frame
1. It is made of 60mm*30mm square pipe by bending process, and can also choose 40mm*20mm, 50mm*30mm or 70mm*40mm square pipe.
2. The four angles of the frame are rounded corners with arcs of 15 degrees, or 90 degrees can be used as required.
3. Use round head inner hexagon screw to lock the bottom seat, or use round head cross screw.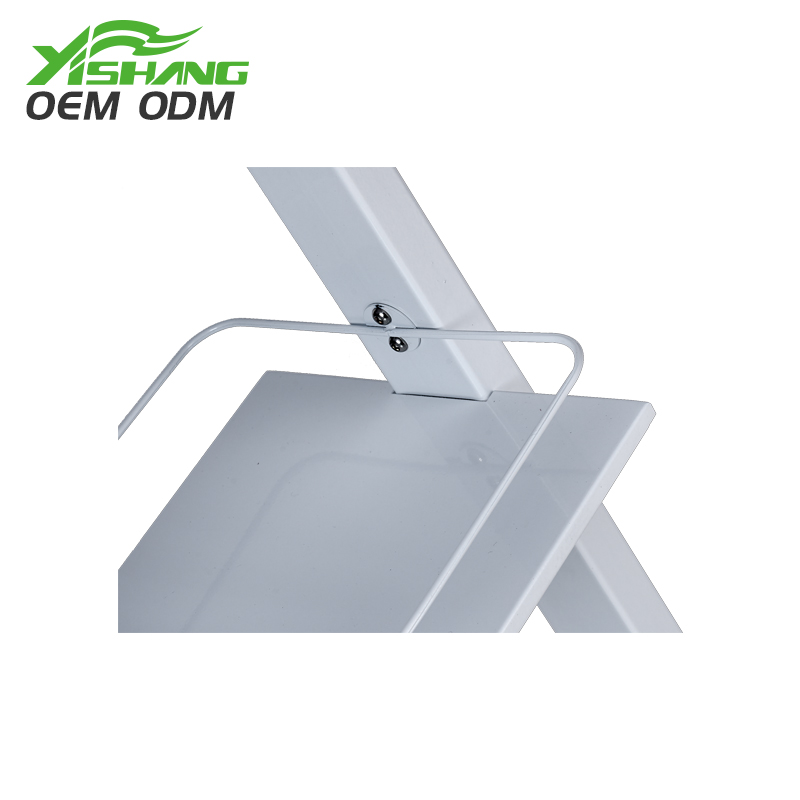 Shelves
1. The original design has 4 shelves, can be designed as required for 5 or 6 layers. It is not recommended to have more than 6 layers, otherwise it is not beautiful.

2. The standard spacing of each shelf is 300mm, which can be increased or reduced as required.
3. Each layer is fixed to the square pipe with screws, and the hidden design is used for screw installation.
4. Regular screw holes can be made in the square tube. After removing the screws, the shelves can be adjusted the position freely. But these screw holes can not be hidden, the customer who cares must carefully consider this method.
Protective Barrier
1. The protective barrier is made of metal wire, according to the shape of the shelf and surrounded by a rectangular rounded corners.
2. The function of the protective barrier is not only to prevent the goods from falling to the ground, but also to add an elegant atmosphere to the whole makeup display shelf.
3. The protective barrier is fixed to the square pipe with screws, which cannot be hidden. If you mind the screw being seen, you can also weld the round branch directly to the square tube.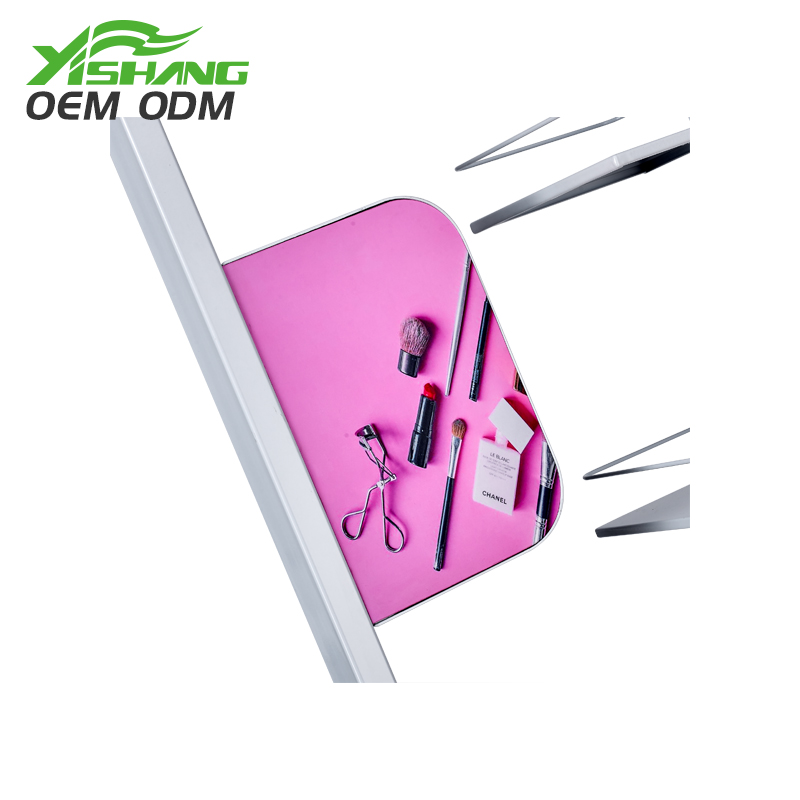 Advertising
1. The advertisement is in the middle of the cosmetic display rack, close to one side of the square pipe, or both sides of the pipe at the same time for advertising.
2. Advertising board can use PVC board or hard cardboard, PVC board is more durable than cardboard.
3. Use double-sided adhesive tape or glue to paste advertising board, easy to replace the new advertising board. Why not screw it in? Because screws can not be hidden, directly affect the beauty of advertising.
4. For high-end cosmetics, this advertisement can be made into an acrylic light box with patterns or words. The power cord goes directly into the square pipe and comes out from the bottom, which will not affect the aesthetics of the makeup display rack.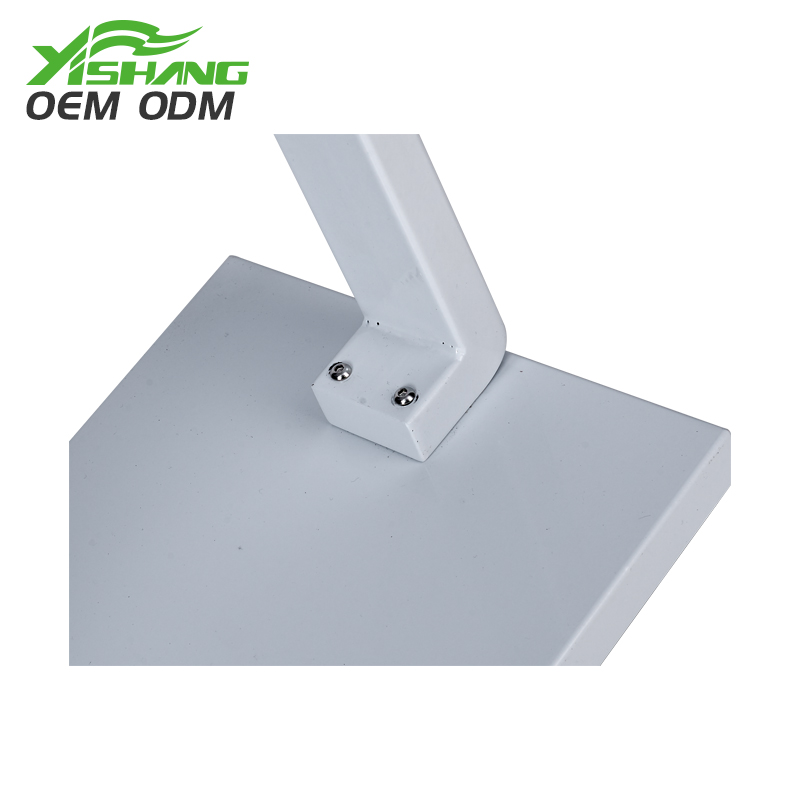 Bottom
1. Function: to fix the square pipe frame and stabilize the whole makeup display rack.
2. Size: 600mm * 300mm, which can be modified as required.
3. Foot: we use adjustable feet that can be used on uneven ground.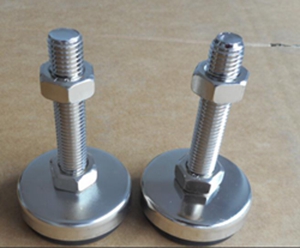 In order to move convenient also can use brake casters.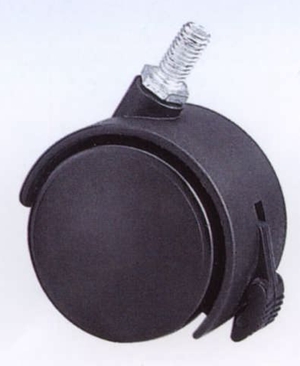 Plastic bags
1. Type: the display stands are mainly used PO or PE plastic bags (non-toxic).
2. Thickness: 0.03mm - 0.05mm is commonly used to pack the display stands.
Bubble
1. Types: polyolefin foams are commonly used, and polyurethane or phenolic foams can be selected as required.
2. Density: commonly used 7kg/m cubed, 8kg/m cubed, 9/m cubed, 10/m cubed. Other densities can also be selected according to the product.
3. Thickness: commonly used 30mm. 10mm, 20mm or more than 30mm can be selected according to needs, and the recommended thickness is not more than 50mm.
Carton
1. Type: corrugated carton is used for export products.
2. Number of carton layers: there are 3, 5 and 7 layers in general. It is recommended to use 5 layers for general export products and 7 layers for large and very heavy products.
Paper angle protector
1. Types: L-type paper corner guard, U-type paper corner guard, bent paper corner guard, waterproof paper corner guard, surround paper corner guard, special-shaped paper corner guard. The display stands usually use L-shaped paper corner guard.
2. Common specifications: 30*30*3mm, 40*40*3mm, 40*40*4mm, 40*40*4mm, 45*45*3mm, 45*45*4mm, 45*45*7mm, 50*50*4mm, 50*50* 50*5mm, 80*80*4mm, 80*80*5mm, 80*80*7mm, can also be customized according to the actual needs.
1. Guangzhou Canton Fair to YISHANG:

Canton Fair metro station → Guangzhou South Railway Station (25 minutes) → Xiaolan station (25 minutes) → YISHANG (10 minutes), whole journey is about 60 minutes.
2. Shenzhen airport to YISHANG:
1) Shenzhen airport metro → Shenzhen North Railway Station (60 minutes) → Guangzhou South Station (30 minutes) → Xiaolan Station (30 minutes) → YISHANG (10 minutes) , whole journey is about 130 minutes.
2) Take a taxi to YISHANG directly, whole journey is about 120 minutes.

3. Hong Kong airport to YISHANG:
Hong Kong airport ferry terminal → Zhongshan Port (90 minutes) → YISHANG (40 minutes), whole journey only takes 130 minutes.